Udemy
Accident Incident Investigation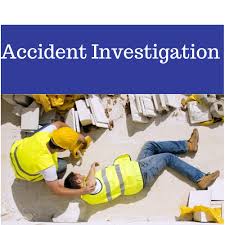 Accident Incident Investigation   Free Tutorial Download

What you'll learn

The definitions and terminology of occupational health and safety.

The principle theories of accident in practice.

The human failures lead to accident.

Four steps of accident investigation process.

Demonstration of report writing.
Requirements

You should have knowledge in basics of health and safety.

There are no academic qualifications, skills or experience required to take the courses.
Description

The ILO estimates that some 2.3 million women and men around the world succumb to work-related accidents or diseases every year; this corresponds to over 6000 deaths every single day. Worldwide, there are around 340 million occupational accidents and 160 million victims of work-related illnesses annually.
This course gives you an opportunity to find out what went wrong. Learning the lessons and taking action may reduce, or even prevent, accidents in the future.
As a step-by-step approach of investigating the incident, it will help you, particularly smaller businesses, to carry out your own health and safety investigations. Investigating accidents and incidents explains why you need to carry out investigations and takes you through each step of the process.
What to expect
Memorable case studies
Sessions with  clear examples.
Summaries to reinforce key points
Multiple choice quiz after each session.
Successful completion of assignment  awarded a certificate.(Soft-copy)
Top 4 business benefits
Making a safer workplace
Improving worker confidence
Preventing future business losses from disruption , down-time and lost business
Developing useful skills and knowledge that can be applied throughout the organization
After the course there will be an assessment 20 multiple choice questions to assess your knowledge.
Course content:
1. INTRODUCTION
i. ILO statistics
ii. Reasons of manage OSH
iii. Responsibilities of employer
iv. Why investigate?
v. What Law says?
2. DEFINITIONS
i. Hazard
ii. Risk
iii. Incident
iv. Accident
v. Near miss
vi. Dangerous occurrence
vii. Days lost
viii. First aid case
ix. Lost Time Injury (LTI)
x. Medical treatment case (MTC)
xi. Risk control measures
xii. Immediate Cause
xiii. Underlying Cause
xiv. Root Cause
xv. Unsafe Act
xvi. Unsafe Condition
3. ACCIDENT THEORIES
i. Accident Ratio Study
ii. Domino Theory
iii. Multiple Causation Theory
iv. Cause & Effect Concept
4. HUMAN FAILURE
i. Human errors
ii. Human violations
iii. Factors Affecting Human Behavior
5. INCIDENT INVESTIGATION PROCEDURE
i. Reasons for investigation
ii. Level of Investigation
iii. Under Reporting
iv. Written plan for investigation
v. Incident investigation procedures
vi. When should it start?
vii. What makes a good investigation?
viii. Role of OHS policy
ix. Emergency response
x. Initial report
xi. Steps of Investigation
xii. Step one : Gathering the information
xiii. Step two : Analyzing the information
xiv. Step three : Identifying risk control measures
xv. Step four : The action plan and its implementation
After each section, there will be a session quiz.
Finally there will be a report writing assignment which you have to submit within 7 days from course completion. This assignment will enable you to develop report writing skill and convince the management to take action.
Who this course is for:

Who are working as Occupational Health and Safety or related position.
Managers , Engineers m Supervisors.
Who wish to become Occupational Health and Safety professionals
Anyone responsible for accident investigation within their organisation.
Download  Accident Incident Investigation  Free

https://bayfiles.com/X1z0Vbm7p0
https://drive.google.com/file/d/1qwmJKNNMJwsEyGZR6MVcUBAfRhInbX9N/view?usp=sharing
https://uptobox.com/aqus58phermh
Password

: freetuts.download