Lynda
AutoCAD 2019 Tutorial Series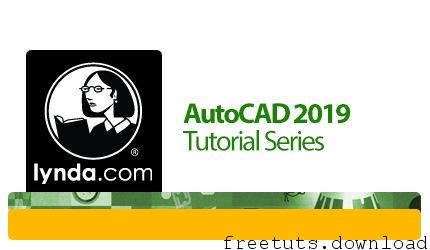 AutoCAD 2019 Tutorial Series – Learn AutoCAD 2019 Courses

AutoCAD 2019 Training
AutoCAD 2019 is a powerful designing and drafting software used to create precise 2D and 3D designs. In this beginner's course, learn how to get started with AutoCAD. Shaun Bryant covers the basics of the user interface, showing how to use the ribbon, choose workspaces, and use the ViewCube. Shaun also demonstrates how to manage files and options, navigate your drawings, and draw and modify objects. Plus, he explains how to draw more accurately with Grid and Snap, use text and annotations to help others get a clearer understanding of your designs, and compare drawings and view the results using the DWG Compare command. Upon wrapping up this course, you'll be prepared to use AutoCAD competently in any industry-architecture, engineering, construction, manufacturing, or product design.
Topics include:
– Drawing simple geometry
– OSNAP and OTRACK
– Annotating simple designs
– Communicating your design intent
– Using workspaces and the navigation bar
– Editing and managing options
– Editing polylines and splines
– Working with coordinates
– Using the Hatch and Gradient commands
– Aligning text
– Designing a table
– Working with layouts and annotation
AutoCAD 2019 New Features
Explore the new features in AutoCAD 2019, and learn how to leverage this new functionality to bolster your productivity, increase your effectiveness, and create the kind of precise, measured drawings that form the basis of design communication the world over. In this course, Shaun Bryant helps you understand the benefits of the new AutoCAD 2019 enhancements, leading you through each new feature. Shaun explains how to quickly compare versions of drawings by leveraging the DWG Compare command, as well as how to work with color settings and save a comparison drawing. He also covers features that allow you to create a shared design view.
Topics include:
– Navigating the AutoCAD 2019 interface
– Starting the DWG Compare command
– Adjusting the comparison margins
– Saving a comparison drawing
– Creating a shared design view
– Using layers in the shared view
– Marking up the shared view
– Using the URL view links
AutoCAD: Using the Command Line
Find out more about the command line: the Windows-specific AutoCAD feature that helps you draw and navigate more efficiently in AutoCAD. This course provides you with the knowledge you need to leverage the command line at the bottom of the AutoCAD screen.
Starting with basic concepts, instructor Shaun Bryant guides you step by step through each topic, allowing you to learn at your own pace and develop your skills as you go. Shaun shows how to position the command line, customize its settings, and start using commands in your AutoCAD workflow. Upon wrapping up this course, you'll have the knowledge you need to customize the command line on your own, working quickly and productively on the world's most well-known CAD platform.
Topics include:
– Entering input with the keyboard and mouse
– Positioning the command line
– Hiding the command line
– Customizing command-line settings
– Typing commands
– Using dynamic input
– Navigating an AutoCAD drawing with the command line
– Using the function keys
– Entering coordinates
Screenshot Tutorials/Courses

Info Tutorials/Courses

Manufacturer: 
Language of instruction: English
Teacher: Shaun Bryant
Level of training: Elementary, Secondary
Time of training: ~ 10 hours +
File size: 1255 MB
https://drive.google.com/open?id=1Lg7eje9r6ZGBYC3a9bOIP2g-Y1fjiuik
https://drive.google.com/open?id=1G1XeEgIWSngPDXzEluEN7_JJO1CSCSPC
https://freeshadow-my.sharepoint.com/:u:/g/personal/hoquangdai_abcda_tech/EVPl0Ru5bMROnlj8iSl8ZXIBGOhLxstSG7cXWy1oY0EpLQ
https://kendy.box.com/s/9c6b7yzn1houpzvr5mo4xgz0hjfqc6vx
https://drive.google.com/open?id=1gY_whRYMarXyZTyrCQhCHn7bsF8pg0-F
https://drive.google.com/open?id=1ua-UyT4mDY3JwVcSGdTF1H-1A5FTMtv6
https://freeshadow-my.sharepoint.com/:u:/g/personal/hoquangdai_abcda_tech/ESFgWDaZ5P9Cnmpa3g2tB8wBAvHdraMJiCDu05smepvUKQ
https://kendy.box.com/s/msah1jcavph9yafhv1ilz581yzw44ozz
https://drive.google.com/open?id=1wRXoNEGHw5D58xvdAU78klI_JQpvcmb9
https://drive.google.com/open?id=1hU2IMKI0O14GIXuk3rKxonQHGlN8wwQ9
https://freeshadow-my.sharepoint.com/:u:/g/personal/hoquangdai_abcda_tech/EZLkGnsweCZHslk0xVRwgFcBD62YXpdSspJW-aMxVMI1hQ
https://kendy.box.com/s/ejjzlr5ikjs4op9ysb6s8dzklta97o3d
Password : freetuts.download