Lynda
Autodesk Inventor 2019 Tutorial Series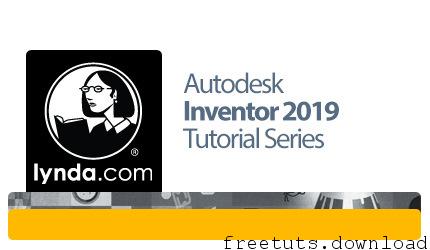 Autodesk Inventor 2019 Tutorial Series – Tutorials Autodesk Inventor 2019

Autodesk Inventor 2019 Training
Get up and running with Inventor 2019, the professional product and mechanical design software from Autodesk. In this course, instructor John Helfen reviews the essential tools and techniques of this parametric design system, explaining how to build parts and assemblies and document them in a way that helps others understand how your designs can be manufactured. Learn how to create a sketch and turn it into a 3D part with the Extrude, Revolve, and Loft tools. Find out how to combine multiple parts into an assembly to test the interactions-before you spend time and money on manufacturing. Finally, discover how to document your designs with drawings, and enhance them with visual styles and annotations.
Topics include:
– The Inventor workflow
– Sketching
– Drawing lines, shapes, and splines
– Dimensioning
– Modifying sketch geometry
– Creating work planes, axes, and points
– Projecting and importing geometry
– Modeling parts
– Building parts with placed features
– Creating patterns
– Creating sculpted objects
– Adding parts to an assembly
– Using constraints to position parts
– Enhancing designs with visualization techniques
– Creating drawing views
– Creating basic annotations
Autodesk Inventor 2019 New Features
As a designer, it's important to stay on top of the latest software updates. You might find the tool or shortcut that makes a big difference in your daily tasks. Autodesk Inventor 2019 offers a series of subtle, but significant improvements to the world's premier mechanical design software. Explore the major new features and enhancements in Inventor 2019, in this course with John Helfen. John reviews exciting sketch enhancements such as the variable pitch helix and auto-scaling options; the Direct Edit tool, which speeds up part modeling; the new look and feel for holes; improvements to assembly constraints; and 3D annotations. Plus, learn about the features that impact all of Inventor, such as custom interface color schemes and measurement accumulation.
Screenshot Tutorials/Courses

Info Tutorials/Courses

Manufacturer: 
Language: English
Teacher: John Helfen
Level of training: Preliminary
time of training: ~ 7 hours +
File size: 1422 MB
https://drive.google.com/open?id=1qajAVc_MJTSyJQdSj86TfuIEDhIVC9x-
https://drive.google.com/open?id=1m7miZ61MzSjtMuURED5yd3SDd8jAkzrn
https://freeshadow-my.sharepoint.com/:u:/g/personal/hoquangdai_abcda_tech/ETF7ItKpuxNFgUuG0mnZT_QBk43vSQCuXJ5BVG7pjOc5qQ
https://kendy.box.com/s/3y7mgg7fwhrdxni7i7jfs4yof67b6c3w
https://drive.google.com/open?id=1V0NhaUYLS1UOVoN2ln5OrtDxVjoKhnk6
https://drive.google.com/open?id=1MaXn8nHV3AXojXXoKnxtTZJfSQ2W47xB
https://freeshadow-my.sharepoint.com/:u:/g/personal/hoquangdai_abcda_tech/EVD32LavVZ9NuxvTf3t0rXcBcYDuOjojN2krIuy6wCZQew
https://kendy.box.com/s/9x04wenfo3qccqjc3opnf64jdmqodw79
https://drive.google.com/open?id=1YsZLB2MEZ61bPiNCjSRprEFcH_ccP72G
https://drive.google.com/open?id=1ZbML6VTiwaAtpMkStcdmPEYrpJoFoAvT
https://freeshadow-my.sharepoint.com/:u:/g/personal/hoquangdai_abcda_tech/EVFggiFinVBGtKCZ7VgVPxQBcBvtX5YaDiO9x8TsZMpEbA
https://kendy.box.com/s/dsowl917h40jzyigjz08yvjjeywo0x1p
Password : freetuts.download