Udemy
Become a HVAC Professional – Part 1 – 3- Fundamentals & Basics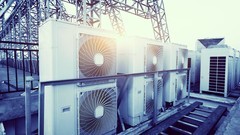 Become a HVAC Professional – Part 1 – 3- Fundamentals & Basics   Free Tutorial Download

What you'll learn

1. Basic Definitions of HVAC

2. Units in HVAC| Tonne and Kilo Watts

3. Components of AC Systems

4. Vapour Compression Cycle

5. Direct Expansion AC Systems

6. Chilled Water AC Systems

7. Types of Chillers Systems

8. Difference in VRF & VRV

9. Lock Rotor Ampere & Full Load Ampere

10. Intro to AHU's and Cooling Towers

12. Aspect Ratio Calculation in DUCT

13. Duct Fittings and types

14. Duct Accessories and types

15. Primary & Secondary Piping Systems

16. Condenser Piping System
Requirements

No Previous HVAC or Field Experience require

Any one Can Join who has basic science knowledge
Description

Welcome to the HVAC course, this is the Part 1 of the series "Become a HVAC Professional" |  in Part 1 you will able to learn Fundamentals & Basics of Air Conditioning Systems.
This is the only course taught by a Mechanical Engineer
After the completion of this course, you can get a Full-time job in the HVAC industry.
I will be permanently updating content so you can be Up-To date with the industry.
I was involved in the  Design & installation of HVAC Systems in United Arab Emirates (Dubai).
This course is designed for complete Beginners, I tried to cover relevant topics in the industry.
IN THIS COURSE YOU WILL ABLE TO LEARN TOPICS SUCH AS :
The Fundamentals of HVAC
ASHRAE Standards and Comfort Zones
Function of Air Conditioning
Societies involve in HVAC
Basic Physics Involve in HVAC
Units in HVAC (Ton & Kilo Watt)
Sensible and Latent Heats
Psychometric Analysis
Reading a Psychometric Chart
ASHRAE Psychometric Software
Properties of Air
Dry Bulb & Wet Bulb Temperatures
Relative Humidity & Humidity Ratios
Dew Point Temperature
Enthalpy of Air
Basic Components of Air Conditioning
Working of a Compressor
Working of a Condenser
Working of an Expansion Valve
Working of an Evaporator
Refrigerants in HVAC
Introduction to refrigerants
CFC Refrigerants e.g R12
HCFC Refrigerants e.g R22
HCF Refrigerants e.g R134a & R410a
Vapour Compression Cycle
Working of a Vapor Compression cycle
Working of Condenser & Evaporator
Working of Compressor & Expansion Valve.
Phase changing in Refrigerant
Classification of Air Conditioners
DX Direct Expansion AC Systems
Chilled Water AC Systems
Classification of DX Systems
Window AC Systems
Split AC System
Package AC System
Ductable Split AC System
VRV & VRF AC System
Classification of Chilled Water System
Water Cooled Chillers
Air Cooled Chillers
Components of Chilled Water System
Chillers
AHU's
Cooling Towers
DUCT Systems & Aspect Ratios
Ducts Introduction
Types of Ducts
Flexible Ducts
Velocities in Ducts
Duct in HVAC Drawings
Aspect Ratios (A.R)  in Ducts
Duct Fittings
Duct Accessories
Piping in HVAC
Primary Piping System
Secondary Piping System
Condenser Piping System
Reverse and Direct Return Systems
Pipes and Pipes schedules
Classification of pipes
Who was this course designed for:
This course was designed for anyone who wants to learn HVAC from Scratch
It is perfect for complete beginners, with zero HVAC Experience.
It is also for experienced MEP or HVAC Professionals who want to enhance their Skills in HVAC Field.
Who this course is for:

Engineering Students
Individuals Wish to Join MEP HVAC Field.
Industrial Engineers
Construction Managers
Civil Engineers
MEP Engineers
Building Service Engineers
Download  Become a HVAC Professional – Part 1 – 3- Fundamentals & Basics  Free

https://horizoncsueastbay-my.sharepoint.com/:u:/g/personal/fbhat_horizon_csueastbay_edu/Ea0fneTbamJIsYPZB5c4lIwBqyXRvzG5lou5qRDhPvz1QA
https://bayfiles.com/HbuaZ2c3pb
https://drive.google.com/file/d/1G_eECdqCJiXPfAcc3mdKjI0a4SD3Y5Y5/view?usp=sharing
https://uptobox.com/qfcu6ta1sghh
Password

: freetuts.download