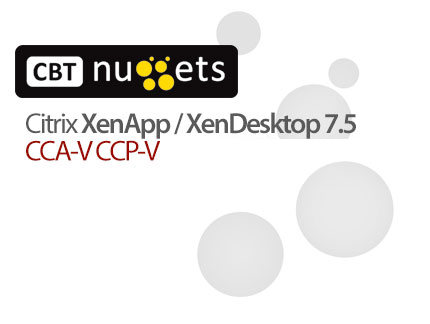 Download Tutorial Citrix XenApp / XenDesktop 7.5 CCA-V CCP-V

This Citrix XenApp / XenDesktop 7.5 video training course covers Citrix's flagship application and desktop delivery platform, with core topics in managing, troubleshooting, and deploying a production-ready XenDesktop solution, including the traditional XenApp concepts. It further reviews the concepts that prepare a candidate for passing the 1Y0-200 and 1Y0-300 exams to obtain Citrix Certified Associate and Citrix Certified Professional certifications.
Learn the step-by-step concepts needed to deploy and manage a production-ready XenApp / XenDesktop 7.5 environment, including topics like VDI, server-based computing, Machine Creation Services, Provisioning Services, NetScaler, Citrix StoreFront, and Citrix Receiver. As bonus content, explore the administration skills necessary for success with XenServer. In addition, this training serves as a great resource for the Citrix certification exam preparation.
Table of Contents:
1. Introduction to XenApp / XenDesktop 7.5 and Citrix Certification 
2. Understanding the XenApp / XenDesktop 7.5Architecture and Components 
3. Installing and Preparing XenDesktop Core Components 
4. Managing Citrix Licensing 
5. Creating Master Images and Installing the Delivery Agent 
6 Creating Machine Catalogs and Delivery Groups 
7. Configuring Citrix StoreFront Store 
8. Deploying and Using Citrix Receiver 
9. Configuring Remote PC Access 
10. Integrating Microsoft App-V 
11. Configuring Citrix Studio Policies 
12. A Comprehensive Review of Citrix Studio Policies 
13 Managing User Profiles 
14. Monitoring and Managing Sessions with Citrix Director
15. Configuring XenDesktop Printing 
16. Preparing for and Installing Citrix Provisioning Services 
17. Creating and Managing Private Mode vDisk 
18. Creating and Managing the Standard Mode vDisk 
19. Managing vDisk Updates 
20. Configuring Delegated Administration 
21. Securing External Access with NetScaler 
22. Configuring High Availability for XenApp / XenDesktop 7.5 
23. Configuring Citrix XenServer for XenApp / XenDesktop 7.5
Screenshot Tutorials/Courses

Download Free Tutorial Citrix XenApp / XenDesktop 7.5 CCA-V CCP-V

https://1fichier.com/?yg09tzuo8ed2drtfr97f
https://drive.google.com/a/student-topica.edu.vn/file/d/1ypV1QekGQfyrv0pnZshtahoLTC7HowtM/view?usp=sharing
https://drop.me/o612WD
http://filecloud.io/7ys34rig6
https://drive.google.com/a/student-topica.edu.vn/file/d/1-xXqj614yY2ruqQXM_tu8asd9JJ0maFZ/view?usp=sharing
https://megaup.net/fydZ/CBT.Nuggets.Citrix.XenApp.XenDesktop.7.5.CCAV.CCPV_freetuts.download.rar
https://uptobox.com/52ln6rfuwgg6
https://user.mshare.io/file/YFftbt
https://campuen-my.sharepoint.com/:u:/g/personal/qedi004_365office_site/Ea89Ep0y07VOqdjXqRVffvgBcvTzkMCHmfasZSNtOTXShw
Password : freetuts.download