Udemy
Concept Art- Drawing Illustrating and Painting in Photoshop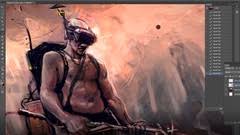 Concept Art- Drawing Illustrating and Painting in Photoshop
What you'll learn
Design and Paint Characters and Landscapes for Professional Concept Art

Techniques and professional tips to become a professional of Concept Art

Introduce yourself to the Professional Creative Process used in Movies and Videogames
Requirements
Some Photoshop and Fundamentals of Art
Have a desire to start a professional path in the world of entertainment
Description
★★★★★ Get to know advanced techniques and cool features  to become a  Concept Artist: character and landscape design/comic book drawing/digital painting. Learn everything you need to know to have a deep understunding of Concept Art through examples and clear,  to the point explanations ★★★★★
The Invisible School presents "Concept Art: Awarded Professors", the most complete Concept Art online course. Six of the best digital artists from Latin America will guide you through the world of Concept Art: examples, projects and techniques unveiled by reviewed instructors. Believe us when we say that this course`s greatest asset are our instructors.
/// Our team of Professors has published it`s artwork in international publications like Beyond Illustration, Castle Magazine (Germany), Painter, Ballistic Publishing (Australia), Eyecandy for Strangers and BrandStudio.
In this course you`ll find everything you need to know to become a Pro Concept artist. Secrets, clues and advices to start a career in Concept Art with the most comprehensive course on Udemy. Step-by-step lessons, techniques and tools to create the most awesome and powerful digital art.
 ¿What is Concept Art?
Concept art is a form of illustration used to convey an idea for use in films, video games, animation, comic books, or other media before it is put into the final product. Concept art usually refers to world-building artwork used to inspire the development of media products, and is not the same as visual development art or concept design, though all three are often confused.
Concept art is developed through several iterations. Multiple solutions are explored before settling on the final design. Concept art is not only used to develop the work, but also to show the project's progress to directors, clients and investors. Once the development of the work is complete, concept art may be reworked and used for advertising materials.
Who this course is for:
Anyone who wants to learn how to create Digital Art, Comics, Character Design, etc.
Students or professionals who want to learn new techniques and tools to enhance their creative processes
DownloadConcept Art- Drawing Illustrating and Painting in Photoshop Free
https://user.mshare.io/file/l529780
https://jxjjxy-my.sharepoint.com/:u:/g/personal/hoquangdai_t_odmail_cn/EVBk3gif_htOiHiNIeV_1yABCeKsTRsX-HtdPigzrx-a4g
https://anonfile.com/B5y6Y1ceoa
https://drive.google.com/a/edusuccess.vn/file/d/1XQtyNEhR3B0tOWjw0Cjl98fhfqGQCOLC/view?usp=sharing
https://drive.google.com/a/edusuccess.vn/file/d/17EWSZWwCybAQudn4O_P4AUmPfDkiDiq-/view?usp=sharing
Password

: freetuts.download