Udemy
Digital Marketing Essentials – First step to Get Job-ready!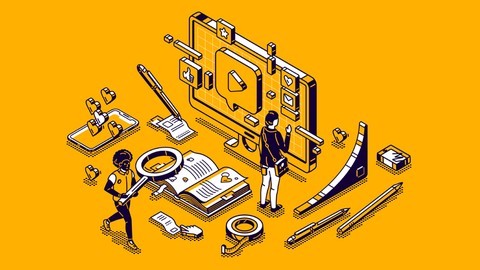 Digital Marketing Essentials – First step to Get Job-ready!   Free Tutorial Download

What you'll learn

DIGITAL MARKETING PREVIEW : Short Intro of Digital Marketing before you get into learning a full fledged course

What is Digital Marketing? Why you need to learn and what you will learn if you did a full course?

Understanding Digital Landscape: Ecosystem, Opportunities and How you will fit-in

Starting with Basic – Identifying what a business needs and what it can do in terms of Digital Marketing – the strategy and tactics unveiled

Understand what it means : SEO, SEM – Google Ads, Social Media Marketing,Marketing Automation , Digital Analytics, CMS and CRM

How all the dots connect – Goals – Data – Marketing – Measurement – Optimization and Reporting
Requirements

No prior experience required

Suitable for everyone – from individuals wanting to start a digital marketing career to Business owners looking to leverage Digital Marketing by been able to do essential things on their own
Description

This course is a summary of what Digital Marketing is  and what you can expect as a beginner. It is meant for people who  want to know more about what Digital Marketing entails before they decide on undertaking the next step of either learning or doing Digital Marketing.
My model for  Digital Marketing Learning consists of  3 parts, and for effective learning, it is essential that you build an understanding of the first part before moving to the next one :
Learning the Concepts
Learning the Tools
Learning the Application
This particular course will provide you a summary to  deep-dive into the first part of  "learning the concepts" and build the foundation for you, thereby allowing you to start your journey as an informed user of Digital Marketing.
While no course can compensate for work that you put into your practice, my endeavor is to provide every beginner of digital marketing with a course that is not only comprehensive but also structured to benefit them the most.  It is with that objective in mind that  I have made this course available for free. Moreover, I believe it would only be fair for me to charge if you stand to gain from this and embark on the next step of learning the  full gamut of concepts, tools and its application.
In my opinion, your key takeaways from this course will be:
Provide you with good understanding of What Digital Marketing is and the skills you need
It will enable you to understand Digital Landscape and Marketing Structure in which you will operate
Show you how to identify Business and Individual Digital Marketing needs and available solutions in form of Digital Tactics
The knowledge you gain will help you with GETTING STARTED with you DIGITAL MARKETING JOURNEY
Who this course is for:

Those who want to know WHAT IS DIGITAL MARKETING
Students/Job-seekers/Business Owners/Managers :BEFORE YOU GET INTO DIGITAL MARKETING
Download  Digital Marketing Essentials – First step to Get Job-ready!  Free

https://xmbaylorschool-my.sharepoint.com/:u:/g/personal/grayem_baylorschool_org/EbvpBAuhv6VAi3ltb9mj7q4BRj7SJDgmaqnvTA8-bY2SQA
https://bayfiles.com/Tfj3seU2od
https://drive.google.com/file/d/1r9iWL_YlBsarsZa2NxqcbfhKWed9qyaO/view?usp=sharing
https://drive.google.com/file/d/1pB7Ly5W-dVOP19V3cBfIVUHtoz0o8wE-/view?usp=sharing
https://uptobox.com/blrkju4vlxr3
Password

: freetuts.download