Udemy
Economics – Behavior of Buyers and Sellers & Product Pricing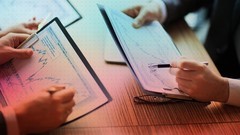 The Easiest Beginner level Course on Economics with real life examples and graphic content. Perfect for Newbies! Free Download
What you'll learn
Understand how the price of a product is determined via Demand and Supply interactions

Learn how factors like income of consumer, fashion, demographic structure, business location etc. can affect the product's sales

Develop an intuitive understanding of how to price a product in a market based on competition and product type

Start talking basic economics in real life

Feel more confident to go for further concepts
Requirements
No prior knowledge of Economics is required.
Description
This course is your first step to build an excellent understanding of Economics. It has students (from over 130 countries), including absolute beginners in Economics and professionals from marketing and consulting fields!  Here is what some of them have to say:
"This entire course simplified my last 3 lectures in Economics for my MBA program. Thanks you so much for this course!"  ~ Naomi Cassin
"A very superb course to learn for marketers and sales people to understand economics and market demand. Well arranged course with simple language and easy to understand" ~ Abdul Qadir Samad
"The author's clarity about what's being handled is exceptionally good" ~ Harish
"I liked this course, it explains the basics of Supply and Demand. It helped me understand some things that weren't detailed when I studied it in my university. Thank you Shubham Kalra for this course!" ~ Caroline Dos Santos Correa

Course Description: 
Welcome to this course on Basics of Microeconomics : Behavior of Buyers and Sellers & Product Pricing
This course is divided into 2 parts:
1) Understanding the Behavior of Buyers and Sellers
This part is covered in Section 1 (Demand), Section 2 (Supply) and Section 3 (Supply and Demand Together)
In this part, I will take you through the heart of Economics – Demand and Supply Mechanism (Determined by Buyers and Sellers ) and we will discuss the following topics :
What is Demand?
Do you demand less when the price of a commodity rises.? Yes..? Think again..!
Is your Demand only a function of price?
What is supply?
What affects supply of a good in the market?
We, as buyers, want to pay as low a price as possible; sellers, on the other hand, want to charge as high a price as possible, seems like there  are opposite interests here, then who gets to decide the price?
How does this price mechanism function?
2) Product Pricing Decisions – Price Elasticity of Demand and Supply
This part is covered in Section 4 (Elasticity of Demand) and Section 5 (Elasticity of Supply).

In this part, you will understand how to analyse demand and supply with greater precision and the product pricing mechanism.
We will go through the following topics:
What is Price Elasticity of Demand?
How much product pricing power do you have?
How to calculate Elasticity?
What is Price Elasticity of Supply?
What affects Price Elasticity of Supply?
This course is not only for the students of Economics but for anyone who has an interest in understanding these powerful mechanisms. 
It is a beginner level course and all the topics and concepts start from scratch, so even if you are not familiar with Economics, you may take this as your first step to understand this powerful subject.
All that said, if you would like to discuss something while you are learning, please feel free to start a discussion or PM me.
Let's get started..!
Who this course is for:
Economics students, who would like to brush-up these concepts or were not taught these concepts in a detailed manner earlier
Students from Non-Economics Background, who would like to learn basics of microeconomics in a simple and intuitive manner
Consultants, who would like to understand how the market place work so that they could understand the thinking process of the consumers and develop better solutions for their problems
Marketers and Sales people, who would like to understand the market demand and want to take better pricing decisions for their products
DownloadUdemy – Economics – Behavior of Buyers and Sellers & Product Pricing Free Download Free
https://2speed.net/file/981B192875CC
https://upfile.info/file/5MBW481E7507
https://1fichier.com/?c4kfkhvrbda4yxpdwm9h
https://drive.google.com/a/vimaru.vn/file/d/1tLTn1Nc6E8agNTGhn3POPzwUk69F1p37/view?usp=sharing
https://drive.google.com/a/vimaru.vn/file/d/16v_7s7J6tAYl96gXNE8Rj-GHP6UfRILy/view?usp=sharing
https://uptobox.com/vcpnu3c8hbo8
Password

: freetuts.download