Udemy
Fighting Misinformation Digital Media Literacy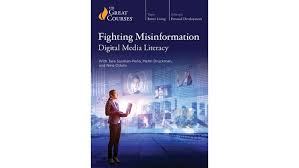 Fighting Misinformation Digital Media Literacy   Free Tutorial Download

Have no doubt: The threat of misinformation is real. It has been used intentionally by those who would sow ignorance, division, and discord; it has been repeated unintentionally by those unprepared to critically analyze the media around them. With this course, you can better discern false information and slow its spread in your own community. But the first step in stopping the spread of misinformation lies with you—and, as you'll learn, it's not as complicated as you might think.
Americans spend hundreds, even thousands, of hours a week engaging with a wide range of media sources—TV, computers, tablets, radios, MP3 players, cell phones, newspapers, magazines, books, and more. Through these, we constantly access a wide range of platforms and media, from news to novels to Twitter feeds to email, and much more. Because we are continuously taking in information from a variety of sources, we are under constant threat from those who would intentionally (or accidentally) misinform—from foreign operatives, advertisers, politicians, and general scammers to our own friends and family. We all experience a near-constant barrage of incoming information. Combine that with the human brain's reaction to stress or fear, and conditions are ripe for the spread of misinformation.
To better prepare you to defuse this threat, IREX (International Research & Exchanges Board) has teamed up with The Great Courses to provide a guide for navigating this tricky landscape with Fighting Misinformation: Digital Media Literacy, an eight-lecture course designed to arm you with the skills you need to be a savvy media consumer. Tara Susman-Peña, a senior technical advisor, and her colleagues at IREX, Mehri Druckman and Nina Oduro, will lead you step by step through the history, evolution, science, and impact of misinformation, helping you to develop the skills you need to combat fakes, stereotypes, and frauds within every kind of media source.
What Is Misinformation?
Using media technology, disinformation and propaganda have been shared by various political powers and individual agents to sow confusion and discord in populations around the world. For example, a campaign in the Ukraine begun in 2013 by the Kremlin has led to frustration, anger, and cynicism among the Ukrainian people, ultimately advancing Russian political designs on Ukrainian territories. But Ukraine has not been the only victim of systematic and intentional misinformation cyberattacks: Elections in the United States—and other nations around the world—have been seriously impacted by foreign interference through the spread of unverified and misleading information.
In this dynamic course, you will learn from media and misinformation experts about the falsehoods, slander, prejudice, and bad ideas that fall under the umbrella terms of disinformation and misinformation. Specifically, you will:
Distinguish between the terms misinformation and disinformation, and understand how the creator's intentions impact each;
Learn the types of problematic content, or misinformation, including satire/parody, false connection, false context, misleading/imposter/manipulated/fabricated content, hate speech, and propaganda;
Consider examples of particularly pernicious and prevalent misinformation in the United States today, and explore the very real dangers to public health and safety associated with each;
Exercise your critical-thinking skills to develop crucial skills to apply to the information you encounter every day;
Learn how to determine when a source can be trusted, and how to compare and contrast sources that are trustworthy with those that are not;
Change your information-consumption habits to ensure you are engaging with trustworthy sources; and
Build your emotional resilience, so you are less easily swayed by appeals to emotion when you encounter information that seeks to manipulate you.
The way our brains naturally function, unfortunately, makes us particularly vulnerable to misinformation. As you explore these topics and more, the educators at IREX will lead you through a deeper understanding of the human brain and its chemical response to stress. At the very moment when we are most anxious or fearful, our brains cut out any extraneous information, narrowing our focus on survival. This reduced capacity can inhibit our ability to discern inaccuracies or falsehoods in the information we are receiving. This can be doubly true when the information itself is alarming. Is there any way to slow down and refocus our attention on the details that might help us critically appraise the media we consume? Yes, and this course will show you how.
How to Verify Information
Quality journalism is based on facts and truth, but the media can be full of opinions masquerading as fact. Learn the skills that good journalists employ—steps like cross-checking and lateral reading—to guarantee that their audience has access to the most current, accurate information available. Also, explore the ways in which you, personally, can use a variety of websites, browsers, and applications to check and recheck the stories, images, and data crossing your path.
IREX has developed a set of procotols which can, when used in tandem, stop the spread of dangerous and damaging misinformation. Starting with "Label to Disable," a simple, three-step process that can help you support the rational-thinking skills of your brain when you come across provocative information and build your emotional resilience to the effects of misinformation. This step is then followed up with a process that adds personal responsibility to everything you pass along, known as "Care before You Share." These protocols can help you in the face of rapidly changing techological innovation, helping you to stem the tide of falsehoods and propaganda.
By learning how experts verify information—and building a toolbox of skills you can apply to the news and rumors you encounter every day—you will be better prepared to evaluate what you encounter and feel more confident in determining what is fact and what is fiction.
Threat of Misinformation in Science and Health
Misinformation in science and health can be especially destructive, leading to substantial ecological damage and major public health emergencies. The nature of science as a rapidly changing and often uncertain field can make science and health news seems particularly confusing. How can you bring a critical eye to what you read and see in the fields of health and science? How can you avoid inaccurate or blatantly false information that can cause serious harm to you or those you love? IREX begins by using the first steps of the scientific method.
By employing the open-minded, curious, and discerning methodologies employed by scientists, you can learn to develop and test hypotheses and use clear evidence to support the conclusions you reach about health and science issues.
All of these vital lessons will help you determine whether what you are reading or seeing is worthy of believing and sharing with your friends, family, and community. Recognizing the dangers posed from misinformation; working to verify what we are seeing, reading, and hearing; and taking responsibility for only passing along those things that we have carefully vetted, we become a part of the solution.
Evolution of Convincing Lies
It sometimes seems impossible to keep up with the pace of technological innovation. Just as each day brings us access to new and exciting advances in information sharing, so, too, does the rapidly changing world of technology pose endless new risks to information accuracy. As Ms. Susman-Peña and her colleagues point out, technology is a tool and "…every exciting new resource that can solve a problem also has the potential to be appropriated in harmful ways."
There is a misinformation arms race underway. Those who would spread misinformation for political, social, or economic gain find new ways to spread lies and discord all the time. Although some of the finest minds in the world are working to stop the spread of misinformation, the most important work must be done at the individual and community levels.
Download  Fighting Misinformation Digital Media Literacy  Free

https://mshare.xyz/file/azNOCnZY
https://jia666-my.sharepoint.com/:u:/g/personal/hoquangdai_xkx_me/EW-jr7b0gXpFhYJO__yPxAsBIu57REopwOBYWjJL0ktqFg
https://anonfile.com/p8p374r6o0
https://drive.google.com/a/my.riohondo.edu/file/d/1iJCvuRjztBTk4DXGBhIFHwqS_Hvv8t3Q/view?usp=sharing
https://uptobox.com/xym18iulbf43
Password

: freetuts.download