Udemy
Hydrogen Internal Combustion Engine – Introduction to Design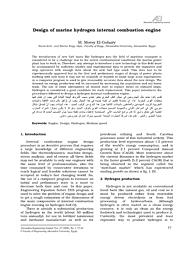 Hydrogen Internal Combustion Engine – Introduction to Design   Free Tutorial Download

The design of vehicles especially their powertrain systems have evolved continuously. Decades of research and development led engineers to extract maximum possible efficiency (50% by Mercedes F1 engine) for well-established internal combustion engines, or propose new technologies such as the rise of electric vehicles and fuel cell introduction to consumer markets.
Alternative fuels, hybridisation and electrification of vehicles have become extremely important in both public and private transport sectors in recent years due to the rise of air pollution, global warming and unsustainable energy exploitation.
According to the International Energy Agency (IEA), in order to limit average global temperature increases to 2°C  by 2050, 21% of carbon reductions must come from the transport sector. Around 50% of diesel compression engines are subject to extinction by 2020, through policies implemented by governments and agencies such as new Euro 7 emission standards.
This forces industry and manufactures to develop new solutions in order to comply with stricter environment regulations and be able to offer technology to the market.
You will learn:
How a Internal Combustion Engine works
Fundamental engine components and operation cycle
The difference between gasoline, diesel and hydrogen engines
Engine systems (Ignition, Fuel, etc.)
Engine terminology (BDC, TDC, etc.)
Hydrogen properties
Hydrogen air/fuel mixing, combustion and storage
Required hardware modifications to existing engines
Engine simulation and laptime software solutions
This course is designed to take you from zero to inspired engineer concerning future hydrogen combustion engine knowledge. Whether you have previous engineering background or not, this course will serve you to refresh, learn and understand where the industry is heading, what are the solutions and how you can further build your knowledge, gained from this course.
This course will provide answers to questions that are often answered at industry or high university level.
For example:
How do you start an engine design process?
What software is used for the design process?
Are there alternative fuel solutions that are feasible right now, to reduce emissions?
It provides an amazing introduction if you are a student thinking about or going into a university or college.
Why this course?
Because it provides solutions to real problems that are occurring now with emissions, shows you how to start a engine simulation, and most importantly exposes you to a completely up and rising field of hydrogen fuel for internal combustion engines. This is expected to be one of the most applicable engine solutions for marine, motorsport, power generation and public road vehicles.
The course includes with 2D images, 2D animations and 3D animations.
Software tools used by industry and universities on engine design and full vehicle simulations
Content has been read clearly so you can confidently 'learn on the go' without needing to watch the screen constantly.
Don't waste more time reading this course description, check-out the free preview videos and the curriculum, then make an informed decision.
Hope to see you on the course and start inspiring your imagination!
Who this course is for:
Anyone who wishes to know how an internal combustion engine works.
Anyone eager to learn about alternative fuel solutions for the transport industry
Particular benefit is for anyone working or training in a mechanical engineering related industry (marine, HVAC, power engineering, industrial engineering etc.).
Particular benefit is for anyone working or training in an automotive engineering or automobile engineering related industry (maintenance, design, operation etc.)
Who this course is for:

Engineering Students
Engineering Enthusiasts
Vehicle Enthusiasts
Download  Hydrogen Internal Combustion Engine – Introduction to Design  Free

https://drive.google.com/file/d/1rQ9H6w8qLsUDSQ2XThbfxcbKwF4woFV7/view?usp=sharing
https://drive.google.com/file/d/1qNnu4-2ABHwdDihE37CVnVHfphOYzPh1/view?usp=sharing
https://drive.google.com/file/d/1agsEfivWGd-jaMwZiuXkgW1RJZnwMXit/view?usp=sharing
https://uptobox.com/8g5pqaqnnbx5
Password

: freetuts.download