Udemy
Instagram Hashtags Marketing in 2020 – Smart Instagram Growth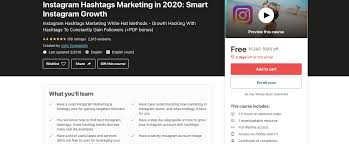 Instagram Hashtags Marketing in 2020 – Smart Instagram Growth   Free Tutorial Download

What you'll learn

Have a solid Instagram Marketing & Strategy plan for gaining targeted followers

Have clear understanding how marketing in Instagram works, and what strategy is best for you

You will know how to find best Instagram hashtags, know hashtag trends and see many real life examples

Have a step-by-step guide on how to grow your Instagram account with hashtags

Have a list of useful apps and services (95% are free to use) for levereging your account and reach 10.000 followers and beyond

Have a catchy Instagram account Image

Have a catchy Instagram account description & CTA

You will learn why Instagram hashtags are not working sometimes and how to avoid that

By the end of the course you will know all available Instagram hashtag search tools and have a complete cheat sheet

Know how to find trending Instagram hashtags and use them in right way
Requirements

If your business can leverage Instagram marketing strategies & tactics – this course is a great fit for you

You should have Instagram app installed

You should be confident with Instagram basics, but it's not a "must"

You should know how to create high quality content (images & videos)

Having a solid 7-30 days Instagram content plan is a +++, but not necessary
Description

Instagram Marketing With Hashtags is the only white hat method to constantly grow your account on Instagram.
So if you want to gain more followers, comments, and sales – the methods described in this course are for you.
Marketing strategies given in this course are easy to apply on any kind of Instagram accounts – business or personal.
It works similarly as SEO for Google but for your Instagram Account.
——————————————————————————————————
Hashtags give you an option to show your content (images, videos or Instagram stories) to a wide audience of Instagram.
As you know when you add some hashtags to your posts other people can find your profile, subscribe and become your customers.
But does your Instagram marketing hashtag strategy gives you the desired outcome?
If you think you can improve it – you on the right track.
In this course, I'll give you a complete step-by-step strategy for growing your Instagram account with hashtags.
We will take a look at hashtag basics, I'll explain to you how to find high converting hashtags, what is the difference between general and more targeted hashtags.
Also, I'll share with you how you can get on Instagram Top-9 recommendations section, where to add hashtags in your profile (trust me on that, it is very important) and why you need to create your own branded hashtags.
——————————————————————————————————
In the second part of the course, we will cover how to give a significant boost to your profile discovery with Instagram search engine optimization (SEO).
I'll also cover a few growth hacking methods to help you reach the desired amount of followers much faster.
This two methods combined (Instagram marketing with hashtags + growth hacking strategy) will give you a great opportunity to differentiate yourself from others.
This course will cover up different apps and services for Instagram marketing including hashtag research applications on computer and mobile to automate this process for you.
Anyway it wouldn't be in 100% auto mode, so you'll have to add it some twist, but trust me after finishing this course you will clearly understand how to create interesting content for your audience, how to find and generate right hashtags on Instagram and all necessary knowledge to leverage your account and win Instagram game.
I believe you would be more than happy with this marketing course on Instagram hashtags!
Good luck, and see you inside ?
Ustin
Who this course is for:

This Instagram course is crafted for people & businesses with less than 10,000 Instagram followers
This course will not give you instant results in the first day, but if you'll continue for at least 15 days you will notice a constant growth of your Instagram account
Download  Instagram Hashtags Marketing in 2020 – Smart Instagram Growth  Free

https://bayfiles.com/Hfnby5n3pe
https://drive.google.com/file/d/1F6BgNE6kARz4y7u-6wG_RcmPntkKFldj/view?usp=sharing
https://uptobox.com/1wlhrrtzjzn9
Password

: freetuts.download