Lynda
Java Essential Tutorial Series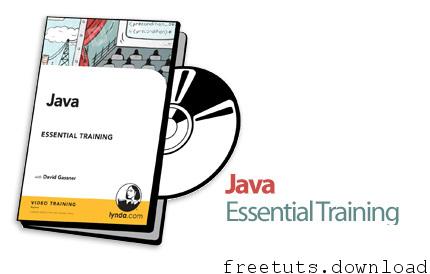 Download Java Essential Tutorial Series – Java Essentials Tutorial
Java Training
Join author David Gassner as he explores Java SE (Standard Edition), the language used to build mobile apps for Android devices, enterprise server applications, and more. This course demonstrates how to install both Java and the Eclipse IDE and dives into the particulars of programming. The course also explains the fundamentals of Java, from creating simple variables, assigning values, and declaring methods to working with strings, arrays, and subclasses; reading and writing to text files; and implementing object oriented programming concepts.
Topics include:
– Understanding the history and principles of Java
– Installing Eclipse and Java
– Compiling and running from the command line
– Managing memory and performing garbage collection
– Declaring and initializing variables
– Writing conditional code
– Building and parsing strings
– Debugging and exception handling
– Using simple arrays
– Creating custom classes
– Working with encapsulation, inheritance, and polymorphism
– Managing files
– Documenting code with Javadocs
Java Training: Syntax and Structure
Get started with Java, the popular object-oriented programming language. In this course—the first installment in the Java Training series—start exploring this essential language, and learn about basic Java syntax and the Java platform's fundamental architecture. Instructor David Gassner goes over the history of the language, providing coverage of its principles, components, and syntax. David explains how to install Java on Windows and macOS, and how to create a project in IntelliJ IDEA. He also demonstrates how to work with primitive variables, create and parse String values, and manage program flow—including how to create reusable code.
Topics include:
– Reviewing the principles and components of Java
– Choosing a development environment
– Testing simple Java code in JShell
– Creating a project in IntelliJ IDEA
– Working with primitive variables
– Working with Boolean and character values
– Working with String values
– Managing program flow
– Creating reusable code with methods
Java Training: Objects and APIs
If you want to build applications for mobile devices, desktop computers, or the web, you need to know Java—and keep your knowledge up to date as the language evolves. Java 9 is changing quite a few important aspects of the programming workflow, particularly the handling of objects and APIs. This course is the second in the Java Training series, which provides the foundation for learning Java 9. Instructor David Gassner starts by showing how to debug Java code in IntelliJ IDEA, and handle any exceptions that occur. He explains how to create custom classes and understand how Java implements inheritance, a core principle of object-oriented programming. Plus, learn how to store data in memory with the Java Collections Framework, extend Java with popular APIs, make network requests, and package your applications for deployment in JAR files.
Topics include:
– Debugging Java code
– Handling exceptions
– Creating custom classes
– Working with inheritance
– Managing data collections
– Using Java packages and libraries
– Preparing a Java application for deployment
Screenshot Tutorials/Courses
https://drive.google.com/open?id=1qrWaCUiHalMI6P3cyRlAbqFmQUiPdceB
https://officepro-my.sharepoint.com/:f:/g/personal/hoquangdai_5tb_rf_gd/EhqA6NDAiopDlmOtZr9h_OoBeck3abdbtvT1m6Z2RAUbiw?e=8feN4j
https://drive.google.com/open?id=1sU_TMXHyqwMvsDHxYkOQ6E-GkPlCUYec
https://officepro-my.sharepoint.com/:f:/g/personal/hoquangdai_5tb_rf_gd/EuYQ0A0TCCNNlxCdtEDlDu4B49gmz4_MZNzkkZibKd6IEQ?e=DNLbvi
https://drive.google.com/open?id=1UD1ETB2zIgDQ2Cak1dSvtiZcYW2j8XHH
https://officepro-my.sharepoint.com/:f:/g/personal/hoquangdai_5tb_rf_gd/EjyRSIw34kVInH1WOnBckj4BY0nx7MrE3muIhP7fDWPZNQ?e=noHCQS

Pass RAR : hoquangdai.com