Udemy
Learn HTML5 and CSS3 From Scratch – Crash Course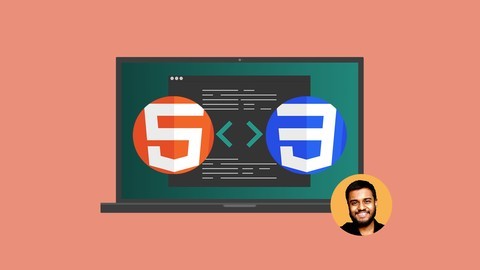 Learn HTML5 and CSS3 From Scratch – Crash Course   Free Tutorial Download

What you'll learn

Learn HTML5 & CSS3 basics, concepts and ideas

A small project to help you get started with HTML5 & CSS3
Requirements

No coding skills or designing experience needed

Any computer works – Windows, OSX or Linux

You don't need to buy any software – we will use free editing tools
Description

Beginners course, this is perfect for anyone starting out and looking find a starting point to develop website.
Learn to create a website from scratch in 1 hour!!!
This course is designed for anyone who wants to better understand how to create their own websites; within this course we show you how to make a basic website from scratch.
So why choose this course?
Reason #1: Project-based course
Together we will build a simple website from scratch. Step-by-step, you will learn the basic fundamentals of HTML5 and CSS3.
This small project will teach you to build real-world HTML5 and CSS3 websites.
Reason #2: You walk away with a ready-to-launch website
By the end of the course, you will have a complete website that looks good on any computer. You will also get all the resources, images and assets for the course as a free download.
Reason #3: I make HTML5 and CSS3 easy and fun
With the right guidance, I will teach you HTML5 and CSS3 in a fun and productive way. Why waste time with random tutorials and YouTube videos? I promise I won't let your time go to waste.
So here is exactly what we cover in this training:
Easy-to-follow and hands-on web development with HTML5 and CSS3.
How to get and use images, fonts and icons to make your website shine — all for free.
Connect HTML5 and CSS ids, classes and tags.
Box model explained.
Floats and fixed width.
Let's now find out if this course is for you. It's a perfect fit if…
Student #1: You are a complete beginner with no idea on how to create a website.
Student #2: You know some HTML and CSS, but struggle to make your own website.
Student #3: You are a designer and want to show your talents using HTML5 and CSS3.
Basically, if you are master web developer, then DON'T take the course. Everyone else: you should take the course, today.
Sounds great? Then just click the "Take this course" button, and let's begin a new adventure.
Who this course is for:

Beginner web developers interested in HTML5 & CSS3
Students with HTML5 and CSS3 skills, but who struggle to put together a great website
Designers who want to expand their skill set into HTML5 and CSS3
Download  Learn HTML5 and CSS3 From Scratch – Crash Course  Free

https://xmbaylorschool-my.sharepoint.com/:u:/g/personal/grayem_baylorschool_org/ES2uvAFAf45FkjcVxnRID20B91efCCnUQsZd72PCq1-EjA
https://bayfiles.com/19y3t6U4o7
https://drive.google.com/file/d/1SEk6ICBqHW9TR5U2IPH5ucYPbU-DrO0R/view?usp=sharing
https://drive.google.com/file/d/1kLgzI0CFJNMtTwnm0r7cYs52l-v7ETA3/view?usp=sharing
https://uptobox.com/hau98z8iv6ja
Password

: freetuts.download