Packt
Learning Python Web Penetration Testing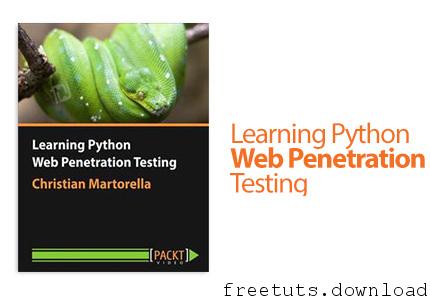 Learning Python Web Penetration Testing – Web Penetration Testing Testing with Python

With the huge growth in the number of web applications in the recent times, there has also been an upsurge in the need to make these applications secure. Web penetration testing is the use of tools and code to attack a website or web app in order to assess its vulnerabilities to external threats. While there are an increasing number of sophisticated ready-made tools to scan systems for vulnerabilities, the use of Python allows testers to write system-specific scripts, or alter and extend existing testing tools to find, exploit, and record as many security weaknesses as possible.
This course will walk you through the web application penetration testing methodology, showing you how to write your own tools with Python for every main activity in the process. It will show you how to test for security vulnerabilities in web applications just like security professionals and hackers do.
The course starts off by providing an overview of the web application penetration testing process and the tools used by professionals to perform these tests. Then we provide an introduction to HTTP and how to interact with web applications using Python and the Requests library. Then will follow the web application penetration testing methodology and cover each section with a supporting Python example. To finish off, we test these tools against a vulnerable web application created specifically for this course.
Stop just running automated tools—write your own and modify existing ones to cover your needs! This course will give you a flying start as a security professional by giving you the necessary skills to write custom tools for different scenarios and modify existing Python tools to suit your application's needs.
Table of Contents:
– Introduction
– Interacting with Web Applications
– Web Crawling with Scrapy
– Resources Discovery
– Password Testing
– Detecting and Exploiting SQL Injection Vulnerabilities
– Intercepting HTTP Requests
Screenshot Tutorials/Courses

Info Tutorials/Courses

Manufacturer: Pocket Publishing / Packt Publishing
Language of instruction: English
Teacher: Christian Martorella
Level of instruction :, Secondary
Time of training: 1 hour + 30 minutes
File size: 381 MB
https://drive.google.com/open?id=1D90mr0C-6NH8b1CdUKTNb2ORwc4CxuIO
https://drive.google.com/open?id=17bloQGQxgvjfXfaAUC-gmVVIbwR4u4vS
https://freeshadow-my.sharepoint.com/:u:/g/personal/hoquangdai_abcda_tech/EU1JFY_V15BDpEj-6nogP3MBizyBT-Pot2Eo3YC8WPn0Gw
https://kendy.box.com/s/d57qsngtpfejql8zff1iqism1q1r9nue
Password : freetuts.download