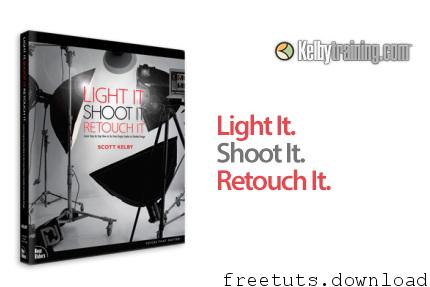 Light It. Shoot It Retouch It – Photography Photography, Lighting, Take photos, and retouch

Watch Scott's Light It. Shoot It. Retouch It. Webcast
Scott Kelby has reinvented how lighting books are written by finally revealing the entire process from start to finish. You see everything from the complete lighting setup (and all the gear used), to the shoot (including all the camera settings and a contact sheet of the progression of the shoot), to the all-important part that most books don't dare include – the post-processing and retouching in Photoshop.
This book also breaks new ground in the visual way it teaches you the lighting setup. There aren't any sketches or 3D models – you see the lighting layout in a full-page photo, taken from above during the live shoot, so you can see exactly where everything's positioned (the subject, the photographer, the lighting, the background – you name it – you see it all). Plus, you'll see side, over-the-shoulder, and more behind-the-scenes views, so you can absolutely nail the lighting every time.
LEARN THE LIGHTING SETUPS THE PROS USE
Each year, Scott trains thousands of professional photographers during his Light It. Shoot It. Retouch It. LIVE! seminar tour and now, for the first time ever, he's taken that incredibly popular style of learning and put in into book form. Now everyone can have a real-world reference for getting the same looks today's clients are clamoring for.
Topics include:
– The step-by-step layouts for creating the most-requested and sought-after lighting looks
– How to get more out of one light than you ever thought you could (this is worth it alone!)
– How to control and shape your light without breaking the bank
– The camera settings, gear, and power settings for every shot
– The retouching techniques the pros really use to make their subjects look their very best
– How to retouch hair, eyes, lips, skin, and lots of other little retouching tricks that make a really big difference
– How to create high-contrast portrait effects without buying expensive plug-ins
– A host of insider tricks, invaluable shortcuts, and kick-butt special effects to give you a real advantage over the competition
More info (open/close)
Screenshot Tutorials/Courses

Info Tutorials/Courses

Language: English
Teacher: Scott Kelby
Level of training: 
File Size: 4500 MB
https://mshare.io/file/Xom8Dwv
https://drive.google.com/open?id=1PxJIeE3E37WDBD_tx1sPdXrZ02RXcSWF
https://freeshadow-my.sharepoint.com/:u:/g/personal/hoquangdai_abcda_tech/ERsu3r_swg5OmaxGxEOmFjEB7cE_bkX9ntMbmCa4LXdFhw?e=jupfQY
Password : freetuts.download