Lynda
Premiere Pro CC 2017 Tutorial Series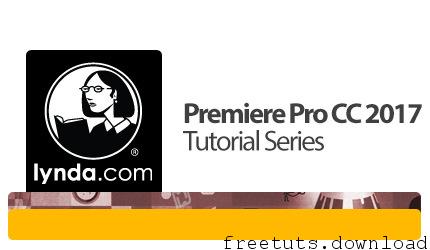 Premiere Pro CC 2017 Tutorial Series – Premiere Pro 201C

Premiere Pro CC 2017: New Features
Explore the new features that will get video producers and editors excited about Premiere Pro CC 2017. Rich Richard Harrington covers all the changes from the initial November 2016 release, updating the course whenever Adobe makes another change to the software. . Learn how to use the new and improved interface and shortcut assignments, learn project management tricks for locking projects and creating sequencer presets, and explore the myriad of changes to effects, including new title styles presets, audio effects, and Apple Metal and Lumetri effects, plus closed captioning improvements.
Premiere Pro CC 2017 Training: The Basics
Get started with Adobe Premiere Pro CC 2017. This initial-level course takes you through the basic ins and outs of the Premiere Pro CC 2017. Using a project-based approach, senior staff author Ashley Kennedy teaches Editing by blending technical and aesthetic instruction. She begins by taking you on a tour of the interface, and then goes through the whole post-production process, including ingest, organization, editing, refining, audio editing, basic effects, color correction, titling, output and more.
Topics include:
– Touring the Premiere Pro interface
– Asset organization and project management
– Basic editing
– Trimming and refining
– Basic audio editing
– Working with stills and graphics
– Basic effects
– Manipulating clip speed
– Using automatic and basic color correction tools
– Working with titles
– Sharing and exporting
Screenshot Tutorials/Courses

Info Tutorials/Courses

Manufacturer: 
Language of instruction: English
Teacher: Richard Harrington
Level of training: Elementary, Secondary, Advanced
Training time: 54 minutes 16s
File size: ~ 2500 MB
https://drive.google.com/open?id=1yXXmB4uC_dDyTgAxnUT0mFyc4SY_d9yR
https://drive.google.com/open?id=1aAdyoXrBAUxvoo54hXjLkKSvcn86L9Yw
https://freeshadow-my.sharepoint.com/:f:/g/personal/hoquangdaionline_abcda_tech/EoDgyqodZLxBtpwmP1-yvUwBbRDx-wtIlSv6uSVqsWmkQQ
https://drive.google.com/open?id=19IlmgjBS2LEyS63cinI77qtHHn5X-wpR
Password : freetuts.download