Lynda
Premiere Pro CC 2018 Tutorial Series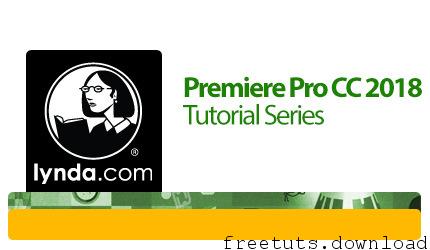 Premiere Pro CC 2018 Tutorial Series – Premiere Pro 201C

Premiere Pro CC 2018 New Features
Explore the cool new features in the 2018 release of Adobe Premiere Pro. In this course, Rich Harrington covers the recent additions to Premiere Pro, updating the course whenever Adobe makes another change to the popular video-editing software. Rich covers workflow improvements, including the new Timeline search options and changes that make it easier to upload videos to YouTube. In addition, he discusses new options for customizing labels, managing multiple open projects, working with Premiere Pro in virtual reality (VR), and more.
Topics include:
– Updates to the Facebook, Vimeo, and Twitter publish modules
– New search options in the Timeline
– Adjusting track heights in the Timeline
– Writing keyframes in the Audio Mixer
– Customizing label colors
– Managing multiple open projects
– Saving a template from After Effects
– Working with Premiere Pro in virtual reality
Premiere Pro CC 2018 Training: The Basics
Learn the basics of Adobe Premiere Pro CC 2018. This beginning-level course helps you unlock the potential of this powerful video-editing program. Instructor and filmmaker Ashley Kennedy teaches the all the fundamentals: editing video and audio, correcting color, adding titles and effects, and more. Her project-based approach gives context to each of the tools, allowing you to experience both the technical and creative sides of the editing process. She begins with a tour of the Premiere Pro interface, and then goes through the entire post-production workflow—including media import and organization, editing and trimming, audio adjustment, styling and retiming effects, color correction, titles, and output. By the end of the course, you should be able to hit the ground running and create your own professional video projects with Premiere Pro.
Topics include:
– What's new in the latest version of Premiere Pro
– Importing media
– Organizing assets into bins
– Editing and trimming video
– Using markers
– Editing audio and multicamera footage
– Working with stills
– Adding effects
– Manipulating clip speed
– Correcting color
– Adding titles
– Sharing and exporting your project
Screenshot Tutorials/Courses

Info Tutorials/Courses

Manufacturer: 
Teaching language: English
Teacher: Richard Harrington, Ashley Kennedy
Level of training: Elementary, Secondary
Time of training: ~ 10 hours +
File size: 4014 MB
https://drive.google.com/open?id=1Uh1N5XRgwf1K6Eb-f0zeocNPbOWcGV2g
https://drive.google.com/open?id=1ZRsbywa9WkJ8BJdp6UrKYeP4l_fyG456
https://freeshadow-my.sharepoint.com/:u:/g/personal/hoquangdai_abcda_tech/EacxxxQmocxAjYMMq-2Qg_YB-B_OFSzjnRdZHqYA8PsLVw
https://kendy.box.com/s/jy4q6utvn4sq87e9o7rfbbeya167ph2k
https://drive.google.com/open?id=1pSljB1u2Ybg7bS7BA1qoDQlFPByMQC9R
https://drive.google.com/open?id=1les880DxLtqBX9L2-1fby7vsIYoLiAy_
https://freeshadow-my.sharepoint.com/:u:/g/personal/hoquangdai_abcda_tech/Efl6Oq8KeINLjbt91griBD8BUsXbrQO3oTCgzlLxu5WsfQ
https://kendy.box.com/s/bnlb0de7vclss06i01qxu6d8g58esake
https://drive.google.com/open?id=1lxUm3u61pcLU_0OZ4FJDMGrceKTj_Nt1
https://drive.google.com/open?id=1Xfb9ZRWF3UwQW4pUSqw2RGbuHXaDt5QE
https://freeshadow-my.sharepoint.com/:u:/g/personal/hoquangdai_abcda_tech/EZhS3aP_Pa9LlaVh85C7DU0BxL3_iWI7HLLAR5ziJvK2OQ
https://kendy.box.com/s/ixrhpb1beqxucrcdz0nvh91qhb0ld6qu
Password : freetuts.download