Udemy
The Complete PowerPoint Tutorial – BEST Tools and Features!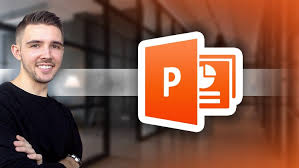 The Complete PowerPoint Tutorial – BEST Tools and Features!   Free Tutorial Download

What you'll learn

Become the most knowledgeable PowerPoint creator on your team

Master features that most people aren't aware of in PowerPoint

Navigate PowerPoint easily by understanding almost every single feature

Have the confidence to create any type of PowerPoint Presentation

Shortcuts that will help you create slides faster than ever before

When to use certain features in PowerPoint and Why
Requirements

Access to PowerPoint 2010, 2013, 2016, 2019 or Office 365 (preferably Office 365)

Perfect for Beginners that want to learn how to use the tools and features in PowerPoint

Suited for all Levels (even the pros may learn new hidden features and tools)
Description

What material will be covered in this course?
All of the tabs and how to use the best tools and features in each tab within PowerPoint.
Tabs included in this course will be: Home, Insert, Design, Transitions, Animations, Slide Show, Review, and View

Why I created this course…
I wanted to create this course because there are over a thousand tutorials on how to create compelling slides and how to be an effective presenter in PowerPoint, but I felt there wasn't a course that solely focused on learning all the different tools PowerPoint has to offer. I myself thought I knew everything there was to know in PowerPoint, but after several years of mastering the tool, I can now confidently create a PowerPoint for any use case.

What to expect from your Instructor…
I want to keep this course as personable as possible. If there is ever a time during the course you have a question, I want you to always feel comfortable sending a message regarding your question. This is my first course on Udemy, so I am going to try my best to perfect my craft as I grow on this platform, but I want everyone to know that I genuinely care about you understanding all the material that is covered in this course.
In my professional career, I spend about 95% of my workload in PowerPoint and have had numerous years learning all the nooks and crannies PowerPoint had to offer. By doing this, I wanted to share what I have discovered and how my knowledge for PowerPoint can help make your job easier when creating slides for your job or for personal use.

Still wondering if you should enroll in this course? Here's why depending on your experience level…
BEGINNERS
If you are completely new to PowerPoint or you have a very brief knowledge of it, this course will be perfect for you. I will walk through almost every single feature PowerPoint has to offer and by the end of this course, you will have the confidence and knowledge to utilize any tool to achieve any use case when creating slides.
INTERMEDIATE to ADVANCE USERS
If you already feel confident in PowerPoint, but want to grow your current PowerPoint skillset this course will be great for you. I personally thought I knew everything PowerPoint had to offer, but over the years, I was amazed to learn new features I never even realized that existed. Now my workflow is 10x faster and my slides are 10x better looking. I strongly believe even the pros would find this course helpful.

Why wait when you can learn something new today. ENROLL NOW! ?
Please Note: I genuinely want to make sure this course is a positive experience for everyone, so please message me if you have any questions while taking this course.
If you read this far…Thank You! ?
Music Credits:
► Music By: LiQWYD – YMorning Dew [NCS BEST OF]
► Business Corporate by Alex Menco
*Please note that I do not claim any of the music in these course videos as my own. All music is used for education purposes only. Thanks! ?
Who this course is for:

People that want to become more confident in using PowerPoint
People want to discover new features and shortcuts they didn't previously know
People that want to navigate PowerPoint more efficiently
People that want to teach PowerPoint to others
Beginners that are completely new to PowerPoint
Experts that want to learn new and efficient methods to create slides
Download  The Complete PowerPoint Tutorial – BEST Tools and Features!  Free

https://bayfiles.com/d2eeYdmfpb
https://drive.google.com/file/d/1BXocoed03xRntaRWyZzfelHs87fTnpuf/view?usp=sharing
https://uptobox.com/uxlatfe2ofa3
Password

: freetuts.download