Skillshare
Watercolor Birds & Branches – Using various watercolor techniques to paint a lovely winter scene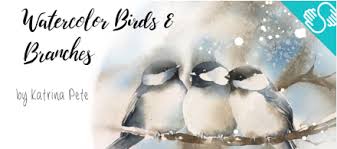 Watercolor Birds & Branches – Using various watercolor techniques to paint a lovely winter scene   Free Tutorial Download

About This Class

Hello fellow artists! Thank you for taking my class. Although this class is best suited for those who have had some watercolor experience, all levels are welcome! We will cover many different watercolor techniques in this class so you may want to watch some of the videos before starting your painting. I will be demonstrating this watercolor Birds & Branches painting from start to finish while showing various techniques in order to achieve texture, flow, depth and fine detail in watercolor. I've included a few short videos on the supplies I use and a quick review of various brush techniques.
This painting came together through a series of layers using transparent watercolor.
First, we start by using masking fluid in specific areas to keep small details white. We will use different tools to 'spatter' masking fluid such as a toothbrush. Using masking fluid gives us more freedom to get wild with our background wash.
Once the masking fluid dries, we start with a background wet-into-wet wash with shades of blue and white. We will paint soft and diffused background branches while the wash is still wet.
We will use salt in the background wash to add texture and 'snow effects'
Once the background wash dries, we will add foreground branches using dry brush techniques.
As we add more layers and move into the foreground, we will achieve more contrast by increasing the 'value' or (darkness /intensity/saturation) of our paint while keeping the highlights in surrounding areas white and bright.
Terminology
"Thirsty Brush" means softening an edge while it is still wet. I use a damp brush and remove excess water to 'lift' some of the pigment from the edge to soften it.
"wet into wet" means applying paint to a damp surface. It is important that your paper is not too wet. It should have an even coating of water and should not be pooling on the paper. You should be able to hold it up to the light and still see the texture of the paper.
"Dropping in color" When I apply paint into a wet wash and letting it spread naturally.
"Dry brush technique" Painting on a dry paper. This is great for detailed work and texture.
"Masking fluid" Applied to dry paper in order to preserve white areas. Once dry, you can paint over it. When your painting is completely dry you can remove it with a rubber nib or eraser to reveal clean white paper below.
"Value" The relative light or darkness or saturation of a color. A light and dark value next to each other creates contrast.
SUPPLIES
Waterford cold pressed 140lb paper in a block. Arches is wonderful too. I use both!
Blick Studio Natural Blend No. 12 Round Brush
Silver Black Velvet Round No 6,8,10
Antwerp Blue, VanDyke Brown, Buff Titanium, Payne's Gray
Masking Fluid
Salt (table salt is fine)
Ultra Fine Mist Sprayer (Master's Touch Fine art studio) from Hobby Lobby or Blick's
Coffee ?
Download  Watercolor Birds & Branches – Using various watercolor techniques to paint a lovely winter scene  Free

https://mshare.xyz/file/IHhBFQvN
https://jia666-my.sharepoint.com/:u:/g/personal/hoquangdai_xkx_me/EYGCUSFqvehLl0i1GgZ348cBtP9brth1lTS4HyrPAZaioQ
https://anonfile.com/V3Of29meof
https://bayfiles.com/N4Oc2bm0o9
https://drive.google.com/a/my.riohondo.edu/file/d/17WPznPXu6Y2jXQXwFCgu_U8vQMbDFCpg/view?usp=sharing
https://uptobox.com/d00usixdkrll
Password

: freetuts.download