Udemy
Windows Server Administration: Beginner To Pro In 7 Days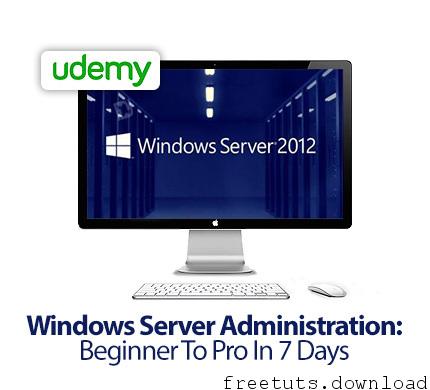 Windows Server Administration: Beginner To Pro In 7 Days – Basic Tutorial to Advanced Windows Server Management in 7 Days

Prepare For A Lucrative System Administration Job. Step-by-step Windows Server 2012! 70-413 MCSE exam ready.
THE COMPLETE BEGINNER TO ADVANCED WINDOWS SERVER 2012 SYSTEM ADMINISTRATION COURSE
Are you looking to get a high paying job as a Help Desk Supporter, Network Administrator, IT Support Specialist or other IT related job?
Do you want to pass the Windows Server 70-413 MCSE Exam?
My Windows Server 2012 System Administration course is all you need to acquire the real world job skills, that will land you a job fast.
This course is a step-by-step introduction on how to install, configure and use Windows Server 2012 in a business or government agency environment, taught by an experienced Microsoft Certified instructor.
Install Windows Server 2012, Build a Windows Domain Controller, Active Directory, Group Policy, Virtual Server & more, it's all covered step-by-step.
This course will give you a solid theoretical understanding of Windows Server 2012 Administration as well as the practical skills to use it proficiently on the job.
ABOUT THE INSTRUCTOR
My name is Pablo Mendoza, and I am a senior Microsoft Certified Professional & IT consultant.
I teach the course using Windows Server 2012, but almost all lessons can be implemented in Windows Server 2016. Windows Server 2012 is the most used version in the corporate world, so it makes sense to learn this version first.
This course is not for people who only wants a surface level understanding – only for those who want to get real job skills, so they can get a System Administrator job (aka. Sysadmin).
By the end of the course, you will have a thorough theoretical and practical understanding of all the features of Windows Server 2012 – like virtual servers, server management, active directory, group policy and much more. It's everything you need to get and succeed in your next network administrator job.
WHY WINDOWS SERVER 2012 ADMINISTRATION IS A GOOD CAREER PATH
Government agencies, healthcare providers, school districts, and businesses all use Windows Server 2012 to fix any number of different problems, and to lower costs on their IT infrastructures.
As a System Administrator, you'll be in demand (and well paid) in a huge industry that will only grow larger in the years to come…
Curriculum:
– Introduction
– Installing and updating Windows Server 2012
– How To Create and Manage a Windows Domain
– Managing Active Directory Domain Services Objects
– Implementing Group Policy
– Conclusion
Screenshot Tutorials/Courses

Info Tutorials/Courses

Manufacturer: Yudomi / Udemy
Language: English
Teacher: The Startup Central Inc., Pablo Mendoza
Level of training: Elementary, Secondary, Advanced
Training time: 5 hours +
File Size: 623 MB
https://mshare.io/file/nCORebt
https://drive.google.com/open?id=1Dnc0hpkJOx018ImFWJQBQadJvVXD97Sp
https://freeshadow-my.sharepoint.com/:u:/g/personal/hoquangdai_abcda_tech/EWmemr8PTzNAnjoBSYegS-EBtrzUz6AHc74LRP9AwnRK0Q
Password : freetuts.download