Udemy
Loudspeaker engineering – How to design speaker crossovers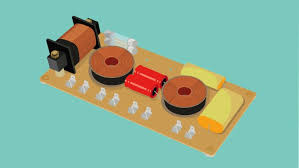 Loudspeaker engineering – How to design speaker crossovers   Free Tutorial Download

Design you own speaker crossover
This course is the last piece in the loudspeaker design process. You will learn how to use the FRD and ZMA files (check Acoustics 201 course) to design 2-way and 3-way crossovers. These designs will be done in XSim which is a free application. Crossover design, while it does have some general guidelines, it's unique for every crossover. For this reason, 5 different types of enclosures have been built for this course : two 2-way bass reflex bookshelf speakers, a 3-way bass reflex, a sealed MTM and a 3-way bass reflex floorstanding speaker with dual woofers. This way you will get a better understanding on how the process works. It takes not only knowledge, but also intuition and experience when designing a crossover.
Specific circuits for crossover design
Besides the basic filtering for speakers (1st order, 2nd order, etc), there are other circuits which are implemented to correct the frequency and the phase response of the system. Since we have 5 examples to play with, we have enough crossover projects to go through most of these in a practical way. To mention some of the circuits : impedance equalization circuit, attenuation pad, baffle step compensation, ladder delay network, notch filter, and more.
Testing the new crossovers
Designing a crossover on your computer is convenient but we will also test it out. I have a large amount of electrical components, capacitors, inductors and resistors, from small to large values. After we design the crossover in XSim, we will assemble a prototype crossover and check how it measures and how it sounds. Some tips and tricks on how to make your life easier and what to avoid when building a prototype.
Building a crossover network
Building a crossover network will require some handy work. You will need to be aware of the size and material of the board, how and where you place your components. What will you use to fix the components to the board. How to make sure the components won't rattle about. Unavoidably you will acquire some basic soldering skills as well.
At the end of this course, and by taking the previous 2 courses as well, you will be able to fully design from scratch your own multi-way loudspeaker.
Who this course is for:

DIY-ers who want to make multi-way loudspeakers
Audiophiles who want to learn how to make their own custom crossover
Those who want to extend their knowledge about electro-acoustics.
Download  Loudspeaker engineering – How to design speaker crossovers  Free

https://drive.google.com/file/d/14jlYUpoD7pPjF-a9Q8H5IbDgzETLzKfI/view?usp=sharing
https://drive.google.com/file/d/1OIjE4nSqoeoZB2v34WAL64ZA_hcttLa9/view?usp=sharing
https://drive.google.com/file/d/1iwxrfCQs6hVBEiCRo1_ZvhAmh1bN4B5e/view?usp=sharing
https://uptobox.com/54i17v2ozue2
Password

: freetuts.download