Udemy
SAP CO Product Costing-By Order Scenario in S4 HANA 1909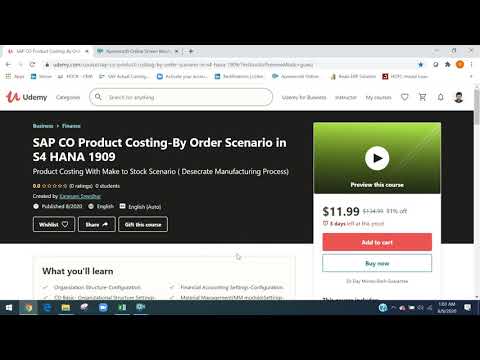 SAP CO Product Costing-By Order Scenario in S4 HANA 1909   Free Tutorial Download

What you'll learn

Organization Structure-Configuration.

Financial Accounting Settings-Configuration.

CO Basic- Organizational Structure Settings-Configuration

Material Management(MM module)Settings-Configuration

Sales and Distribution (SD module)Settings-Configuration

Production Planning (PP Module) Settings-Configuration

FI-MM-SD Integrations Settings-OBYC and VKOA-Configuration

CO-Cost Component Structure OKTZ -Configuration

Costing Sheet – Template allocation Configuration for Over Head Calculation

Costing Variant-Valuation Variant-Configuration

Product Cost by Order-Costing,Valuation Variants,Variance and Settlement -Configuration Settings

Work In Process (WIP) Configuration Settings

Master data-Cost center-Cost element-Activity type-SKF

.Material Ledger Configuration in S4 HANA with Multiple Currencies

Cost Center Planning with SKF, Activity Type and Cost element :KP46-KP26-KP06

Cost Splitting Structure-Mapping- Configuration Settings

Cost Split and Activity type plan rate calculation- KSS4-KSPI

PP master data:BOM-Work Center-Routing-CK11N-Standard Costing

Business Partner(Vendor master data) Creation-Purchase Order creation-Goods Receipt of INPUT Materials

Preliminary Costing, Simultaneous Costing with Production Order AND Month End Closing

CK40N-Standard Costing-Multiple Production Orders creation and postings with Month End Closing

Work in process-Variance Calculation and Settlement
Description

1. Organization Structure-Configuration
2. Financial Accounting Settings-Configuration
3. CO Basic- Org Settings-Configuration
4. Material Management Settings-Configuration
5. Sales and Distribution Settings-Configuration
6. Production Planning Settings-Configuration
7. FI-MM-SD Settings-OBYC and VKOA-Configuration
8. CO-Cost Component Structure-Configuration
9. Costing Sheet – Template allocation Configuration
10. Costing Variant  -Valuation Variant-Configuration
11. Product Cost by Order-Costing, Valuation Variants, Variance and Settlement -Configuration Settings
12. Work In Process (WIP) Configuration Settings
13. Master data-Cost center-Cost element-Activity type-SKF
14. Material Ledger Configuration ( It is mandatory in S4/HANA system).
15. KP46-KP26-KP06
16. Splitting Structure-Mapping- Configuration Settings
17. Cost Split Configuration and Activity type plan rate calculation- KSS4-KSPI
18. BOM-Work Center-Routing-CK11N-Standard Costing
19. Business Partner(Vendor) Creation-Purchase Order creation-Goods Receipt of INPUT Materials
20. Preliminary Costing, Simultaneous Costing with Production Order AND Month End Closing
21. CK40N-Standard Costing-Multiple Production Orders creation and postings with Month End Closing
22. Work in process-Variance Calculation
Who this course is for:

CPA , CMA , ACCA , CA , MBA , M Com,B Com students and Professionals, SAP FICO Consultants and End Users.
Download  SAP CO Product Costing-By Order Scenario in S4 HANA 1909  Free

https://bayfiles.com/nac3Z2m3pa
https://drive.google.com/file/d/1XS8a7HrkW0oOLHQ4wcRgpDXvc24jRrw8/view?usp=sharing
https://uptobox.com/crp8skvmbysk
Password

: freetuts.download