Udemy
Build Custom Windows Images & Make Use of Unattend.XML File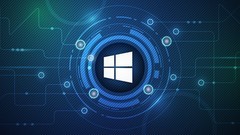 Build Custom Windows Images & Make Use of Unattend.XML File   Free Tutorial Download

What you'll learn

Create a master custom image for your ideal Windows PC

Save your time installing Software, as all what you need will be included in your Windows image

Automate Installing Windows 7, 8, 8.1 & 10 (Almost zero touch)

Modify your Windows image easily, add files, languages, drivers, install SW & updates to the image
Requirements

A good PC with at least 4 GB RAM

Good Internet connection, or Windows ISO images in hands
Description

Doesn't it seem boring to do the most weary task day after day, machine by machine, taking up an hour or more from your time just to make one device ready to be used?
Formatting PCs "or installing Windows" was (and still) one of the most frustrating tasks that any helpdesk engineer or PC maintenance shop need to do. What I came up with this course is a cool, easy and professional way to make your Windows installation experience as never been before.
This course is a mix of many features, tools, and ideas that are combined together to master custom Windows image that works on all desktops & notebooks you have.
We will create a virtual Windows machine (Windows 7, 8.1, or 10) using either Hyper-V or VirtualBox, whatever is convenient for you. Then, we will modify the image, add files to it, install applications, updates, and whatever modifications we want. Respectively we will capture that Windows machine using ImageX to extract a WIM file with all these modifications.
Next, we will see how we can use this extracted WIM file to create a bootable Windows image, moving to use an XML file that we can create to automate installing Windows almost without any user interaction.
Feel like this is too advanced technical course? Don't do! We will explain every single step. No rocket science in this course, guaranteed! You will see how to do each step in a very easy and straight forward way.
Why you are still reading here? Save your time that has been squandered doing boring tasks, hit the button "Take this course" and let's begin!
Who this course is for:

Helpdesk technicians, system administrators, technical support engineers
Any IT person who manages small and meduim infrastructures
For people who use System Center Configuration Manager or any other advanced deployment technology, this course may not be the best for you
Download Build Custom Windows Images & Make Use of Unattend.XML File   Free

https://horizoncsueastbay-my.sharepoint.com/:u:/g/personal/mford23_horizon_csueastbay_edu/Eb61D3WX8YdNtIDPjV_ph0kBozY9gPIPPLk8nUq91PgUdA
https://bayfiles.com/V27aF6fbp0
https://www.dropbox.com/s/2vvxwexgw807g5l/[ freetuts.download ] Udemy – Build Custom Windows Images & Make Use of Unattend.XML File.zip?dl=0
https://drive.google.com/file/d/1GMZbTE5aTvQ28PyiFAUYKp11r2FkjE89/view?usp=sharing
https://uptobox.com/lktm83cntzqa
Password

: freetuts.download