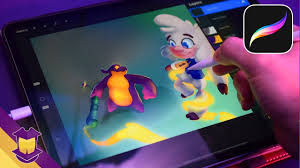 Getting Started with Procreate Free Download

Every once in awhile, a major technological breakthrough transforms the way we go about our personal or professional  lives. For those who draw, sketch, paint, or create visual art as a career or for personal fulfillment, iPad's Procreate app has been one such game-changer. Designed to be used  with Apple's tablet and stylus tools, Procreate gives artists all the benefits of working digitally (the ability to easily delete and correct, create art faster, and to share work instantaneously) while recreating the familiar experience of pens, pencils, and paint on paper. The program bridges the divide between digital and analog so well that even artists who were sure they'd never work digitally  are making the decision to leave their more traditional art tools behind.
If you haven't yet taken the plunge, Procreate can appear intimidating but the application's  best-kept secret may be how easy it is to get started. To help you find your way, we've pulled together all the information you need to know to begin your journey with Procreate, including an overview of the app's primary capabilities, a look at how professional artists use the app, , a guide to essential hardware you need to get started, and some tips and tricks that will help you harness the program's unique powers for making art.
What is Procreate?

Procreate is an award-winning illustration, sketching, and painting app made exclusively for Apple's iPad by Savage Interactive, a tech startup located (remarkably) on the Australian island state of Tasmania. Perhaps the remote location helped the company's designers think outside the box as they found a way  to put much of the power of desktop creative tools into the hands of visual artists–literally, via the iPad and Apple Pencil.
For the many illustrators, designers and artists who rely on Procreate,  the responsiveness of the app, particularly when used with an Apple Pencil, makes it feel very similar  to making art on paper. That "natural," combined with the wide variety of more than 130 Procreate brushes (plus the ability to customize and add more) have tipped the scales in the app's favor, even among veteran commercial and fine artists. Many have been willing (for the first time) to move beyond analog art tools or old-school digital drawing tablets tethered to desktop computers, all in favor of the ease, flexibility, portability, and newfound inspiration provided by Procreate for iPad.
Procreate makes it easy to organize your artwork in a gallery format familiar to Photoshop users; import files from other devices and locations; use hand gestures to zoom in and out of your artwork, undo changes to the work, and access many other often-used functions. You can also perform professional-level compositing and adjustment of layers and generally create and develop your artwork at a speed that can keep up with your imagination.
Perhaps most important to many seasoned professionals, Procreate offers easy integration with existing workflows — you can move back and forth between other apps and platforms as required by your preferred methods, your clients, or the needs of a specific project. There are other professional-grade digital art apps available (including Affinity Designer and Autodesk SketchBook), but as of January 2019 none matches the power, flexibility, and complete functionality and feature-set of Procreate.
DownloadGetting Started with Procreate Free Download Free

https://2speed.net/file/86993C945C07
https://upfile.info/file/X7TT94C741B3
https://1fichier.com/?ijfrbkhrshro0yn0cle5
https://drive.google.com/a/vimaru.vn/file/d/1dALhIYq_-iSUE7n3z2ugmQfxHBcIA7-x/view?usp=sharing
https://drive.google.com/a/vimaru.vn/file/d/13fAO4sj_0kNYzLBvBJ1L1oG8BH8mdPw8/view?usp=sharing
https://uptobox.com/gbpwn2y129je
Password

: freetuts.download