Lynda
Photoshop for Web Design Tutorial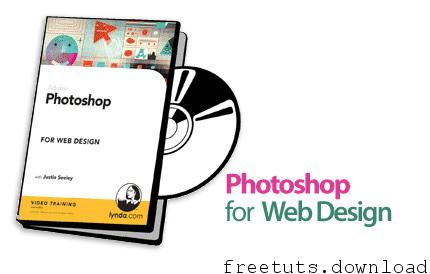 Photoshop for Web Design Tutorial – Photoshop Tutorials for Web Design

Join Justin Seeley as he reveals how designers can create vibrant web graphics, wireframes, and complete web site mockups in Adobe Photoshop. The course covers creating a custom web workspace for maximum efficiency; drawing, coloring, and optimizing web graphics; creating vector shapes and text that scale seamlessly; mastering transparency; building navigation bars and buttons; and speeding up these tasks with the Photoshop automation tools.
Topics include:
– Customizing a web workspace
– Decoding the mysteries behind screen size and resolution
– Coloring web graphics
– Using layers and layer comps effectively
– Working with transparency
– Creating wireframes on a grid
– Styling text
– Creating image sprites
– Optimizing images as JPEG, GIF, or PNG files
– Integrating with the rest of the Adobe Creative Suite
Photoshop CC for Web Design:
The web design landscape is constantly changing, but Photoshop is still a classic. Designers use it to create UI elements, web graphics, wireframes, and functional mockups. Designs that transition beautifully and easily to production. Join staff author Justin Seeley as he reveals how Photoshop is used in the modern web design workflow. Together, you'll create a mockup for a creative company that contains responsive templates, a fully developed color and font theme, and a UI kit full of buttons, navigation bars, check boxes, and other ready-to-use interface elements. He also shows how to optimize web graphics, create image sprites, and integrate other apps like Illustrator and Muse in your web design workflow. Follow along, and learn how to design better web deliverables for your next project.
Topics include:
– Why use Photoshop for web design?
– Decoding the mysteries behind screen size and resolution
– Giving your website a purpose with a content strategy
– Customizing a web workspace in Photoshop
– Designing responsively
– Creating wireframes on a grid
– Choosing colors and fonts
– Developing a UI kit with Photoshop
– Assembling a page mockup
– Creating image sprites
– Optimizing images
– Integrating with the rest of the Adobe Creative Cloud
Screenshot Tutorials/Courses

Info Tutorials/Courses

Teaching language: English
Teacher: Justin Seeley
Level of training :, Secondary
Teaching time: 4 hours + 53 minutes +3 hours + 43 minutes
Price: 99.95 US dollars (for information only)
File size: 384.55 + 506.4 MB
https://mshare.io/file/met2hkcI
https://drive.google.com/open?id=1T7Xnba51bnU7BDHjXqJrjT0z6kWdw4DG
https://freeshadow-my.sharepoint.com/:u:/g/personal/hoquangdai_abcda_tech/Eb9uG29xXXhKhFui89RXfwABr9EyUSS_CZADbS2a33h2gA?e=z0NSNB
https://mshare.io/file/QrjkR0te
https://drive.google.com/open?id=1WoHlyyP4aqzV1vVYAxYJoVAgmoOV8yy0
https://freeshadow-my.sharepoint.com/:u:/g/personal/hoquangdai_abcda_tech/EcnChZsh-odDq7rzGyd8he8B5Ta5KKD0Hco19jRr3Ch37g?e=JngYv6
Password : freetuts.download