Lynda
Unity 5 2D Tutorial Series – Learn how to build a two-dimensional game with Unity 5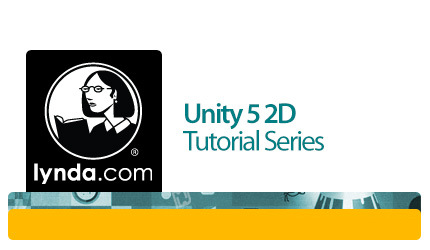 Download Tutorial  Unity 5 2D Tutorial Series

Unity 5 2D Essential Training
Learn all you need to get started in Unity 2D game development. Unity expert Jesse Freeman builds a complete 2D game based on the endless runner genre – a unique one-button game that's not only fun to play, but also exciting to build. The end result is a reusable code base that you can extend with your own artwork and narrative. 
Start looking at how to convert artwork into sprites, create repeating background textures with Unity's TexturePacker, and build reusable game objects such as players, obstacles and enemies. Jesse also covers the basics of object pooling, working with custom UI components, and multiplatform publishing.
Topics include:
– Working with sprites and animation 
– Creating the player 
– Spawning GameObjects 
– Adding obstacles and collisions 
– Building game objects and logic 
– Managing game state 
– Creating pixel-perfect cameras 
– Designing for multiple screen resolution 
– Adding scores 
– Performance optimization 
– Publishing to desktop, web, and mobile platforms
Unity 5 2D: Advanced UI
One of the most important aspects of any game is its UI. Your players spend most of their time navigating between different game screens, selecting options and reviewing game progress. This course addresses some ways to build and design the user interface of a game with Unity's new UI system. Here you'll tackle the start screen, the game over screen, the difficulty window, and the virtual keyboard-common components of most popular 2D and 3D games.
Unity expert Jesse Freeman helps you design your UI using custom prefabs (reusable UI elements), UI components such as windows and buttons, simple buildup animations, and transitions. He also helps you create a window manager to guide changes and relationships between windows and extend the window system with a custom Unity editor that lets you standardize the display and navigation throughout your game.
Topics include:
– Creating Unity prefabs: fonts, colors, buttons, and labels 
– Adding a title, credits, and buttons to the start screen 
– Adding a game over screen 
– Creating animated stats for the game over screen
Unity 5 2D: Movement in an RPG Game
Learn how to move a player into a tile-based 2D map and use that movement to trigger events-creating a gaming experience similar to that of classic RPGs. In this course, Jesse Freeman builds on the lessons learned in the Unity 5 2D: Random Map Generation: adding a player, moving the player from tile to tile, and making the camera follow the move, as well as triggering events on the map. Jesse also shows how to add a "fog of war" effect that reveals the parts of the map as the player moves around and explores, and how to detect and update artwork for the visited flags. 
Topics include:
– Setting up the project 
– Adding and repositioning the player in the map 
– Listening to movement 
– Moving the player
– Triggering events from movement 
– Adding fog 
– Tracking visited tiles 
– Expanding the player's field of view
Advanced Unity 2D: Platformer Player Movement
Learn the foundation of player movement in 2d platformer games. This course offers a breakdown of common player behaviors as well as some advanced techniques to bring your 2D platformer to life. Jesse Freeman shows how to detect input from the keyboard and controller, make the player walk and run, and add in more advanced movement behaviors, such as ducks, double and long jumps, and sliding down walls. Plus, learn how to make your character pick up items and fire projectiles like fireballs. 
Topics include:
– Building an input manager for keyboard and controllers 
– Setting up the player 
– Building reuseable, self contained, and modular behaviors scripts 
– Adding behaviors: walking, running, and jumping
– Managing animation states and player collisions 
– Adding a ducking animation 
– Detecting wall collisions 
– Sticking it, sliding down, and jumping off the walls 
– Picking up items 
– Firing projectiles
Screenshot Tutorials/Courses

Download Free Tutorial

https://user.mshare.io/file/I1ZaHz
https://campuen-my.sharepoint.com/:u:/g/personal/qedi004_365office_site/Ef0lC51pXKdMveS1Oc_wy6cB-2Z3-5-cySgA3rifwnlRuw
https://1fichier.com/?5sli1q0y9goxaapgfb2k
https://drive.google.com/a/student-topica.edu.vn/file/d/1LiDKFF1muL20JPqbBkUkaPufyMfrK1FI/view?usp=sharing
https://drive.google.com/a/student-topica.edu.vn/file/d/1XVsHPvUf0DbJKBOgQsjjYw3WYDG5majT/view?usp=sharing
https://megaup.net/7a21/Lynda.Unity.5.2D.Essential.Training_freetuts.download.rar
https://uptobox.com/e1vg8rzs6tqq
https://user.mshare.io/file/OfxcnPk
https://campuen-my.sharepoint.com/:u:/g/personal/qedi004_365office_site/EROlxn30lhJAtPTCD7U245kBjrppjEj9zyy7QQWX9yae8w
https://1fichier.com/?0nuhess6fwni90ky4ehj
https://drive.google.com/a/student-topica.edu.vn/file/d/11Mgnd36FauWN9eTWfdEaVXmXYZL4rvFx/view?usp=sharing
https://drop.me/BrVwQE
http://filecloud.io/tg7clrmzv
https://drive.google.com/a/student-topica.edu.vn/file/d/1ZlaEfNXFYBAaH_4L5lPSsPApHxwn1op6/view?usp=sharing
https://megaup.net/bmaH/Lynda.Unity.5.2D.Advanced.UI_freetuts.download.rar
https://uptobox.com/iuew3zgfu84e
https://user.mshare.io/file/zrpav8
https://campuen-my.sharepoint.com/:u:/g/personal/qedi004_365office_site/Ed7ftQD9lNJIk5kWtK0HJqUBHnT2qc1ysynuC_mc9fgDww
https://1fichier.com/?xegv0jrhifnqlva67avi
https://drive.google.com/a/student-topica.edu.vn/file/d/14C7M8ICzYQD6Hb3WTGx0C57mugUQTemG/view?usp=sharing
https://drop.me/BPQAmZ
http://filecloud.io/gq74nocy2
https://drive.google.com/a/student-topica.edu.vn/file/d/1OEKQdFpQUyEXuc0LOFaTO42YhZOAXDsV/view?usp=sharing
https://megaup.net/bmaW/Lynda.Unity.5.2D.Movement.in.an.RPG.Game_freetuts.download.rar
https://uptobox.com/pa2oahp9maav
https://user.mshare.io/file/EnmgvV3
https://campuen-my.sharepoint.com/:u:/g/personal/qedi004_365office_site/EakGHJIERs1EgPOhuwk0YS0Be5Xva-biUQLcU_BDujuxYQ
https://1fichier.com/?rxb0fu0v2mix83kqvjb9
https://drive.google.com/a/student-topica.edu.vn/file/d/1N0qAqueKdcfTFt3oneSwoUrH_lae07hu/view?usp=sharing
https://drive.google.com/a/student-topica.edu.vn/file/d/18qYqPrWKx6F8L1B8btGFG0q-exk3Otn2/view?usp=sharing
https://megaup.net/fyeL/Lynda.Advanced.Unity.2D.Platformer.Player.Movement_freetuts.download.rar
https://uptobox.com/7hf2o8qon5as
Password : freetuts.download