News
Graphic Design Fundamentals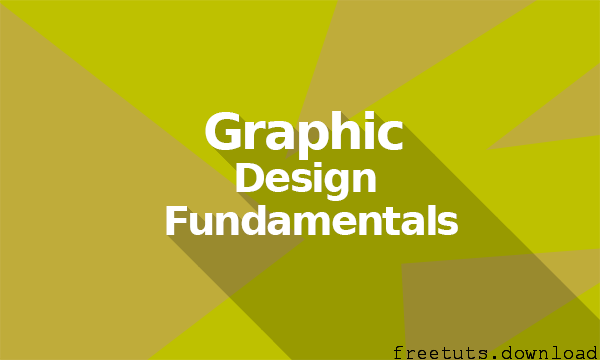 Download Tutorial Graphic Design Fundamentals

Each of us is presented with visual messages about 10,000 times every day. The toothpaste tube you pick up before you're even fully awake, the menu at the coffee shop, your banking website, street signs, the ads on social media, and the handwritten "garage sale" sign posted in your neighbor's yard, just to name a few. While you might not think the concept of "design" applies to most of these items, that's exactly what they're about. Each one was created with one specific purpose in mind: to influence your feelings and behaviors. And whether the designer had access to a single black marker or the latest computer software and a six-figure budget, each visual message was created using the same four elements—form and image, color, type, and layout. In Graphic Design Fundamentals, you'll learn how to use these four basic design elements to achieve specific visual goals and to analyze the visual messages all around you.
The Great Courses has partnered with CreativeLive to present 36 exciting video lessons divided into five modules that bring these design fundamentals to life. Your instructor, nationally recognized designer, educator, and author Timothy Samara, explains and beautifully illustrates the design process from beginning to end in a style that is both engaging and accessible. And because the course was filmed with a live class, you'll have the benefit of hearing student questions and Mr. Samara's answers. Don't worry if you've never held a paintbrush or learned to distinguish one type style from another—and no special design software is needed. Just open your eyes and enjoy the thrill of the creative process!
The Four Elements of Design
Can every piece of created visual material—whether the world's most famous logo or the ad on a restaurant placemat—really be developed using only four or fewer elements? Absolutely. But because the options for each element are essentially infinite, as are the elements' relationships to each other, design choices are limitless. In fact, the real challenge is to pare down your options to make your project work.
In this course, you'll learn how to choose and use each of these elements to meet your goals:
Form and Image: The use of signs to represent complex ideas is the basis of visual communication. Understanding the functions of the basic forms—dot, line, and plane—and the relationships between them will help you choose the appropriate forms and images to meet your goal, no matter what medium you're working in.
Color: Color carries meaning influenced by its proximity to images or words, cultural associations, and personal memories. You'll be able to harness the power of color as you learn the significance of hue, saturation, value, and temperature.
Type: With more than 150,000 fonts in use today, how does a designer choose? The key is to understand the letterforms themselves and the historical information they convey. Learn how the type's shape, spacing, and leading impacts the viewer's ability to read and understand the verbal narrative.
Layout: Ultimately, a designer must decide exactly how to bring everything together in one place—this is the layout. Even if you've chosen the best possible forms or images, colors, and types to accomplish your goal, combining them is key. Learn how the placement of design elements impacts the viewer's visual experience and ability to understand your message.
The Design Process in Action
In Graphic Design Fundamentals, you'll not only learn about design, but you'll also see the creative process in action as Mr. Samara takes you through five projects step by step. You'll learn to work to understand the needs of each unique client, how to proceed with historical and visual research, and why you should use thumbnail sketches to begin your design. You'll see the iterative process at work, with many options being abandoned along the way as he brings the final piece together. The graphic design process comes alive as you watch Mr. Samara develop:
Ads: The purpose of the featured ad is to promote a bike expo and to pique the viewer's interest about bike riding in general. You'll learn how Mr. Samara considers the many visual options to communicate motion—from stagnation to chaos. He also shares his thought process about color, and why he decides to completely remove color from a significant portion of the ad.
Posters: Learn through the process of creating a poster used to promote a new play set in Tehran during the 1979 Islamic Revolution, around the time of the Persian new year. You'll learn how Mr. Samara researches the Islamic Revolution and the new year holiday, along with their associated symbolism. You'll learn why he discards his early visual ideas and also see many iterations of imagery, typography, and color as the project evolves. In the final poster, you'll recognize visual references to all the major themes Mr. Samara set out to develop, and you'll see how they create a vibrant whole that can be "read" from far away or close up.
Websites: The website you will see built is to serve as "brochureware" for a three-generation family-owned construction company. You'll hear about the client's specific goals for the website, and the ways in which Mr. Samara develops every design and functional element to address that goal. You'll learn why he researches Italian design, and why he decides to draw a set of common construction tools in a variety of styles—even before he has any idea how, or if, he'll use them in the finished product.
Books: See Mr. Samara put together a monograph and retrospective of the works of a modern sculptor. You'll watch him work to develop a single linking element to govern the visual presentation. You'll see the various design options Mr. Samara presents to the client—and learn why the client doesn't like any of them. You'll even see what it is like to go "back to the drawing board" to create an interior layout and book cover that better meet the client's visual goals.
Branding: Branding involves giving a unique and memorable visual identity to a particular entity—in this case, a certified macrobiotic chef. You'll hear about Mr. Samara's detailed research and why he presents those results to the client in the form of a competitive audit. You'll see him use a great variety of sources to find symbolic ideas related to cooking, plants, food, elements of his client's personality, and spiritual philosophies. Mr. Samara discusses why he wants to use typeface designs that are no longer in circulation, and how he narrows his color scheme down to one palette from the dozen he originally considers. This segment is a fascinating behind-the-scenes look at a designer developing a complete visual language for his client's ads, logo, blog, business cards, invoices, letterhead, presentations, and website.
With Graphic Design Fundamentals and CreativeLive, you have an extraordinary opportunity to not only learn about graphic design, but to also see this exhilarating process at work—and to develop a better appreciation of the 10,000 visual messages you encounter every day.
Download Tutorials/Courses

https://drive.google.com/open?id=1vVALkx5jklowTphRedX1bbsEqijwZrMA
https://uptobox.com/rh7g0nb63ksi
https://freeshadow-my.sharepoint.com/:u:/g/personal/freetuts_abcda_tech/EXBFVL0uqSRHiQqI7kAqZCIB1AvAD86fFQFCUqTXnLXWuA
https://mshare.io/file/QKmYpz
Password : freetuts.download