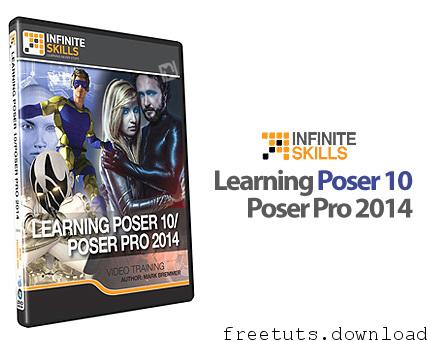 Infinite Skills Learning Poser 10 / Poser Pro 2014 – Training Poser 10

In this Poser 10 and Poser Pro 2014 training course, expert trainer Mark Bremmer introduces you to the tools and techniques you will use to manipulate and animate 3D characters in this software from Smith Micro. Mark uses real-world projects to show you how to apply each concept and you follow along with the working files he has provided, replicating the steps as you go through the tutorial. This course is designed for beginners and experienced Poser users alike, and no prior Poser experience is required.
Mark starts with a quick overview of the Poser interface, and the location of the tools and menus that you will use throughout this video tutorial. Each topic is broken into short lessons, making it quick to learn and easy to understand. Throughout the tutorials, Mark shows you how to pose figures, add props, morph characters, work with materials and customize faces in the Face room. You will learn how to work with the Cloth Room, light a building or scene, animate your figure, and even design a walk for your character! This video training course finishes up with a chapter on rendering settings and best practices.
Whether you are new to Poser or a seasoned Poser professional, the tips and tricks throughout this training course will help you be more efficient in your character animation workflows. You will be surprised at just how much you will learn about Poser 10 and Poser Pro 2014 in less than 9 hours of video based training in this Poser tutorial!
Topics include:
– Introduction
– Before Getting Started
– Interface
– New Features In Poser
– Document Window Controls
– Posing Figures
– Adding And Posing With Props
– Changing And Morphing Characters
– Materials
– Face Room
– Hair Room
– Cloth Room
– Lighting And Scene Building
– Animating
– Walk Designer
– Talk Designer
– Set Up Room
– Rendering
– Wrap-up
– About the Author
Screenshot Tutorials/Courses

Info Tutorials/Courses

Manufacturer: Infinite Skills
Language of instruction: English
Teacher: Mark Bremmer
Level of training: Preliminary
time of training: 8 hours + 45 minutes
File size: 1430 MB
https://mshare.io/file/WF00Te
https://drive.google.com/open?id=1rCT-B0sccToqX8vORwwyM8RAxKQnwfDA
https://freeshadow-my.sharepoint.com/:u:/g/personal/hoquangdai_abcda_tech/EYg_Cagd87lOqIAvClMsJf0Bsk89l00nBI9C-20rGIx8YA?e=fa68Jo
Password : freetuts.download