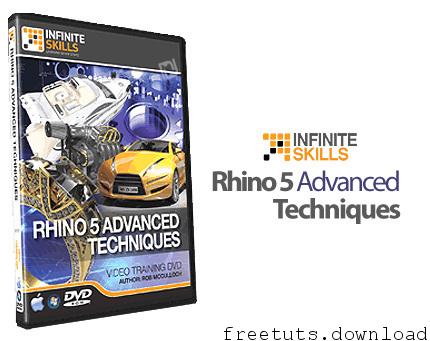 Rhino 5 Advanced Techniques – Rhino Tutorial, Advanced Techniques

vel, and it is recommended that you are familiar and comfortable with the basics of Rhino 5, or have previously completed the Infinite Skills Learning Rhino 5 training course.
This majority of this tutorial is presented in a project-based fashion. You will work on designs from start to finish, learning new tools and new ways to apply them as you go along. You will create models of a computer mouse, desk lamp, car hood and hood scoop, a ring, a power drill, and more. As you progress through the video training, more and more advanced topics are introduced in each project, increasing your skills with the Rhino 5 toolset.
By the time you have completed this computer based training course on Rhino 5, you will be able to create advanced 3D models using the application of expert techniques for your designs. Extensive working files are included to allow you to work on the same files that the author uses throughout the training course.
Topics include:
– Free Videos From This Course
– Solid Modeling
– Object Handling And Visibility
– Modeling Tutorial – Computer Mouse
– The C-Plane
– Modeling Tutorial – Bottle
– 2D Prints And Options
– Working With Block Instances
– Modeling Tutorial – Desk Lamp
– Modeling Tutorial – Build A Car Hood And Hood Scoop
– Modeling Tutorial – Candle And Holder
– Modeling Tutorial – Faucet
– Modeling Tutorial – Ring
– Modeling Tutorial – Boat Hull
– Modeling Tutorial – Power Drill
– Rendering Using Keyshot
– Conclusion
Screenshot Tutorials/Courses

Info Tutorials/Courses

Manufacturer: Infinite Skills
Teaching language: English
Teacher: Rob McCulloch
Level of training: 
Training time: 12 hours + 15 minutes
File size: 1617.5 MB
https://mshare.io/file/J3ml9ZDj
https://drive.google.com/open?id=1meOT7Ea5L94dEPCFoSx_7_fxXTiDO6lm
https://freeshadow-my.sharepoint.com/:u:/g/personal/hoquangdai_abcda_tech/Edfr_095KBZLmYtNS0u1mhwBzlHfAh3_t10Ef2XpaLNOLA?e=WVpeRY
Password : freetuts.download