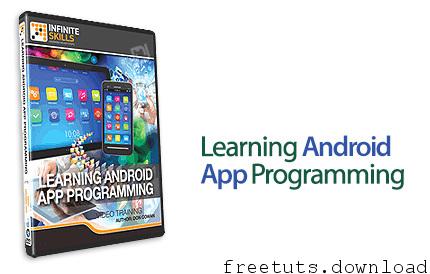 Learning Android App Programming – Android Application Training Tutorial

In this Android App Programming training course, expert author Don Cowan teaches you how to use the tools that Google provides in order to create your very own Android Apps. Android has the largest user install base in the world, and with this tutorial you can learn how to create your very own Apps for millions of users worldwide to use!
You will start by installing the Android Developer Tools you will need to create your Apps, and Don shows you how to use those tools to create your very first App. As you proceed through the video tutorial, you will learn how to work with various App components and APIs, access and utilize resources, create your user interface and add animation and graphics to your App. Additionally, Donteaches you about media playback, device camera access, determining location, and using device sensors. You also learn how to store your Apps data using SQLite and internal device storage.
Once you have completed this Android Programming video course, you will understand the tools, and have the skills necessary, to create and submit your very own Android Apps to the Google Play store. Working files are included, allowing you to follow along with the author throughout the lessons.
Topics include:
– Introduction
– Android Development System
– Using The Development System To Create Your First App
– App Components And APIs
– API Demos App
– App Resources
– User Interface
– Animation And Graphics
– Media And Camera
– Location And Sensors
– Data Storage And Database
– Connectivity And Remote Access
– Web Apps And HTML5
– Wrap-up
Screenshot Tutorials/Courses

Info Tutorials/Courses

Manufacturer: Infinite Skills
Language of instruction: English
Teacher: Don Cowan
Level of training: 
Training time: 9.75 hours + ours
File size: 1360 MB
https://mshare.io/file/QeQuql
https://drive.google.com/open?id=1VoDLYFs1mtPI0YLW_T8rb1c3Y7exoy3n
https://freeshadow-my.sharepoint.com/:u:/g/personal/hoquangdai_abcda_tech/EVCjXGiV_B1OoslEywyvOfQBv8_Iir8m6MxHgNfsWQaJGQ?e=iLh2ik
Password : freetuts.download