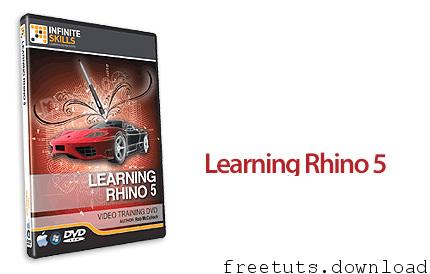 Learning Rhino 5 – Learning Rhino

In this video training course on Rhino 5 from expert author and trainer Rob McCulloch, you will learn how to create 2D and 3D models in Rhino 5. Designed for the beginner, you do not need any prior experience with Rhino in order to get the most out of it. You can start with basics – a tour of the interface, or jump right into creating in 2D and 3D – you are in control of your learning experience!
Using our proven method of video based learning, you will quickly absorb each of the topics presented to you. With more than 14 hours of training, this course is as complete a beginners Rhino course as there is. You will learn topics such as drawing in 2D, creating and editing curves, many methods of surfacing, as well as creating and editing solids. You will apply what you learn by creating models for Tires and Rims, a Razor a Cell Phone and more. You will also learn techniques for rendering your models, so you can present, or share them.
By the conclusion of this computer based training course, you will be capable of creating beautiful 3D and 2D models. This course comes complete with a full set of working files so you can work with the very same files that the author uses in the training video.
Topics include:
– Free Videos From This Course
– Introduction
– Rhino Interface
– Working With Objects
– Drawing In 2D
– Editing Curves
– Surfaces
– Editing Surfaces
– Solids
– Solid Editing
– Modelling Tutorial: Tire And Rim
– Modelling Tutorial: Razor
– Modelling Tutorial: Cell Phone
– Analyzing Your Models
– Rendering
Screenshot Tutorials/Courses

Info Tutorials/Courses

Manufacturer: Infinite Skills
Language of instruction: English
Moderator: Rob McCulloch
Level of training: 
Training time: 14 hours + 45 minutes
File size: 2025 MB
https://mshare.io/file/FScNXbd
https://drive.google.com/open?id=1GYUEeVy3MNBybY-G0k0xSaacYmq4QDNw
https://freeshadow-my.sharepoint.com/:u:/g/personal/hoquangdai_abcda_tech/Eav9VLkD2NhGvgGmc705MNoBZBeznjjrOgEOuAE9ikDNpg?e=7wakp4
Password : freetuts.download