Udemy
Salesforce App Portfolio – Part 1 – Make Your Own Experience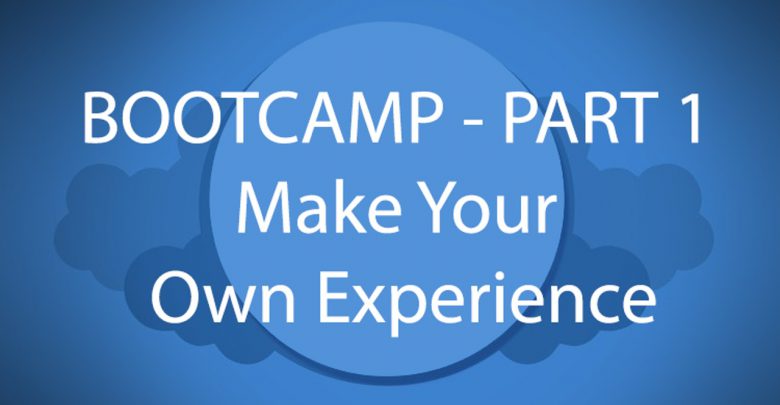 Salesforce App Portfolio – Part 1 – Make Your Own Experience   Free Tutorial Download

This course is the first course of my Salesforce App Portfolio Bootcamp Series of courses – there are 11 total courses in the series.
Each course in this  series not only contains in-depth video training, but also a course workbook.
This course, the Grow Where You Are Planted Success Pack, is intended for someone that is trying to land their first Salesforce job and have been told that they lack the appropriate level of experience. No certification or prior Salesforce experience is required.
I surveyed my students to find out what the biggest challenges were that they faced in launching their own Salesforce career. The most reported obstacle to starting a Salesforce career was a lack of experience. I created this Salesforce Career Success Bootcamp Series to empower you to 'Make Your Own Experience' rather than passively waiting for someone else to bestow your first Salesforce job randomly.
I held three sessions of this Bootcamp, improving it greatly with each iteration, throughout 2018. What started out as a 6-course series quickly grew to an 11-course behemoth. And I previously ran these Bootcamps for a set amount of time and also provided live group coaching and 1-on-1 coaching.
I previously charged students $997 to enroll in my Bootcamp. Because I have elected to start doing additional Salesforce Consulting work and taking on project work (to keep my Salesforce skills current and sharp) I am unable to support the live components that were contained in the Bootcamp, such as the live group coaching webinars and the one-on-one coaching calls.
Because of this, rather than just retiring my Salesforce Career Success Bootcamp, I have elected to make it available to the masses and release it as a series of 11 individual courses here on Udemy. This way you can take them one at a time and make your own experience on your own schedule.
These courses are available on-demand and you can go at your own pace, take them multiple times, and reference them at your convenience.
In this first course, the Grow Where You Are Planted Success Pack – I teach you how to use Salesforce in your existing job, your household, and/or your current job pursuits in order to start gaining relevant experience that you can add to your resume and speak to in job interviews.
Who this course is for:

Aspiring Salesforce professionals
New Salesforce Administrators
New Salesforce Consultants
New Salesforce Business Analysts
New Salesforce Developers
Anyone wishing to supplement their Admin or App Builder or Salesforce Certification Studies with more hands on experience
Anyone who wishes to learn how to build apps on the Salesforce platform
Download  Salesforce App Portfolio – Part 1 – Make Your Own Experience Free

https://drive.google.com/file/d/10JX7-C1aEz81Kgy7s7_Ks5tOd_1cQca9/view?usp=sharing
https://drive.google.com/file/d/1dBBfgTIs9VlZ38aHbhzYXY8coc1-FaPE/view?usp=sharing
https://drive.google.com/file/d/1ChgnVbG6i3KajA2NUeUSbYPMBObJfb8o/view?usp=sharing
https://uptobox.com/yx7pymvdl6nq
Password

: freetuts.download